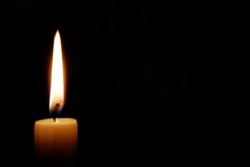 CONTACT: Lisa Lacher,
515-271-3119, lisa.lacher@drake.edu
Drake University students will gather for a vigil at 7 p.m.
Thursday, Jan. 29, to honor the memory of the hundreds of people who died in
the Israel-Hamas conflict earlier this month.
The event will take place at the
Pomerantz Stage in Olmsted Center, 2875 University Ave.
The vigil is co-sponsored by Student Activists Against War
(SAAW) and the Muslim Students Association (MSA).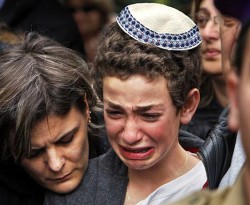 A young Israeli boy mourns the death of his father who lost his life in the conflict.
The purpose of this event is to commemorate the victims of the conflict and share sympathies with the people in the Middle Eastern region on both sides of the border who were adversely affected by the assaults from either side.
The vigil will feature a candle lighting, a multimedia presentation on the crisis and several speakers, including speakers from SAAW and MSA, Jeffrey Weis of the American Friends Service Committee and William Lewis, Drake professor of rhetoric and communication studies.
Human rights groups have accused both Israel and Hamas of war crimes and breaking the international and humanitarian law. A ceasefire was reached in late January.
However, political analysts believe that the
ceasefire is fragile and that Israel, Hamas and the Palestinian
Authority as well as the international community need to work together
on the issue to achieve stability and long-term peace in the region.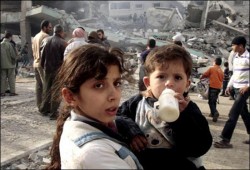 A Palestinian girl carries her younger brother in her arms after their home was destroyed in the conflict.
"We recognize that both Israel and Palestine have the right to self-defense; however we condemn when either Israel or Palestine breaks the international law or violates the spirit of humanitarianism in the process, because that is what triggers further instability and friction between the two sides," said Shahmeer Aarbi, a Drake graduate student and an organizer of the event.
"We believe that both Israel and Palestine have violated the international law in some way or the other," Aarbi added. "That is why we wanted this event to be about condemning war by thinking about the destruction and deaths it causes."
For more information about the vigil, call 515-771-2768 or send an e-mail to shahmeer.aarbi@drake.edu.