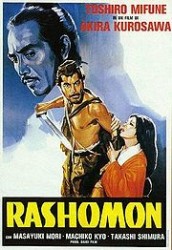 Drake University's spring International Film Series will begin on Sunday, Feb. 1, with a screening of "Rashomon," a Japanese film with English subtitles.
The films will begin at 2 p.m. in room 101 of Meredith Hall, 2805 University Ave. Mary McCarthy, assistant professor of politics, will introduce the film.
The film depicts the rape of a woman and the apparent murder of her husband through the widely differing accounts of four witnesses, including the rapist and, through a medium (Fumiko Honma), the dead man. The stories are mutually contradictory, leaving the viewer to determine which, if any, is the truth.
The series will continue with the following films and dates:
"Rana's Wedding" — Sunday, March 1

"Battle of Algiers" — Sunday, April 5
The series is sponsored by the Drake Center for Global Citizenship. For more information about the event, call 515-271-2117.