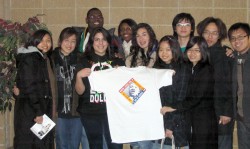 Drake students gather for a photo with a commemorative T-shirt for the MLK Day of Service.
Fourteen Drake students ended their winter breaks early to serve the Des Moines community on Martin Luther King Jr. Day this week.
Drake volunteers were part of a collaborative community service project on Jan. 19. They joined college students from Grand View University, Simpson College, AIB College of Business and Des Moines Area Community College, middle school students and participants from organizations including the Boys and Girls Club of Central Iowa, Kids Against Hunger and Shalom Zone. View photos of the event online.
"The MLK event was a great opportunity to meet new people from other campuses and become active in the community," said sophomore Brittney Miller, student coordinator for volunteer programs at Drake.
Students gathered at Grand View and divided into teams, which included college and middle school students and professionals. The groups worked on projects around the Grand View area, at a homeless shelter and at homes of elderly community members.
"Our group volunteered with Aging Resources," Miller said. "We went to an elderly couple's home to help clean and organize. The students in my group all have plans to work with this agency again."
The Drake students who joined Miller are:
Vern Shan Chan, junior

Tony Chang, senior

Chia Wen Chuah, senior

Sin Jei Goh, junior

Kenneth Lai, junior

Earl Lee, sophomore

Crystal Nance, junior

Li Yin Nyu, senior

Wei-Qing Ng, junior

Win Shi Quah, junior

Yee Ping Voon, junior

Lucca Wang, sophomore

Alicia Yong, junior
"The people who attended truly wanted to help," Miller added. "Furthermore, honoring Dr. King with our service work made the event that much more meaningful."