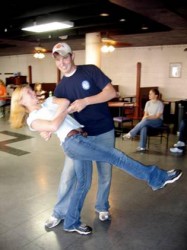 MEDIA CONTACT: Lisa Lacher, 515-271-3119,
lisa.lacher@drake.edu
The award-winning Drake University Jazz Ensemble I, directed by Andrew Classen, will perform for an evening of swing dancing at 7 p.m. Friday, Jan. 23, in Parents Hall in Olmsted Center, 2875 University Ave.
Admission to the dance is $10 for adults and $5 for those with a Drake ID. Tickets will be available at the door.
Step into Swing instructors Rae and Larry Mullica will offer free dance lessons from 6 to 7 p.m.
Since founding Step into Swing in 2007, they have established a monthly dance and a weekly swing social, formed three dance troupes and developed an educational program that introduces swing dancing to students of all ages.
Their accomplishments include taking 5th Place in the Twin Cities Balboa Festival 2008, first in the Fast Dance Competition at the 2006 Hawkeye Swing Festival and performing as featured dancers in the Des Moines Playhouse's 2006 production of the musical "Swing!" More information about Step Into Swing is available online.
Under the leadership of Classen, the Fred and Patty Turner professor of jazz studies, Jazz Ensemble I has received top ratings and performed at the North Sea Jazz Festival in Holland and the Montreux Jazz Festival in Switzerland.
The ensemble recently released its first Christmas CD and held a benefit concert to help support the group's 2009 European summer tour that will include performances in London, Paris and at the North Sea Jazz Festival. Additional information about Drake Jazz Ensemble I is posted on the Drake Web site.