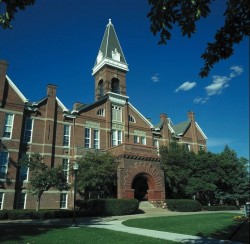 CONTACT: Tory Olson, 515-271-1834,
tory.olson@drake.edu
Five new members recently were elected to the Drake University Board of Trustees. All five will serve three-year terms on the board, which meets four times yearly and serves as the University's policy-making and governing body.
The new members are:

Dennis Albaugh

of Ankeny, Iowa, chairman of Albaugh Inc. will begin his term in January, 2009. He
graduated with an agriculture business degree from Des Moines Area
Community College. Albaugh is chief executive of Albaugh Inc. and has
owned the company since 1979. The company is a privately owned,
independent manufacturer of crop protection products such as
herbicides, pesticides, fungicides and plant-growth regulators.

Dennis Albaugh, Mark A. Ernst and R.W. Nelson
Mark A. Ernst

of Mission Hills, Kan., CEO of Bellevue Capital LLC and a 1980 graduate of Drake University. Ernst is involved with the Athletic Affairs, Business and Finance, Enrollment and Institutional Advancement committees. Bellevue
Capital is a private investment firm specializing in early-stage and
specialty finance businesses. Ernst, who also received his master's
degree in business from the University of Chicago Graduate School of
Business, previously served as the chairman, CEO and president of
H&R Block.
R.W. Nelson

of Des Moines, chairman of Kemin Industries Inc. and a 1950 graduate of Drake University. He began his term in October, 2008.
Nelson previously was president and chairman of Kemin Industries and
served as a sales representative for Flavor Corp. of America Inc. He
has received a number of awards, including Drake's Alumni Achievement
Award, and was inducted into the Iowa Business Hall of Fame in 2006.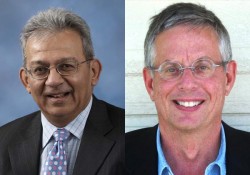 Suku Radia and William E. Smith
Suku Radia

of Des Moines, CEO and president of Bankers Trust Co. He
serves on the Business and Finance; Audit; Enrollment; Institutional
Advancement committees. He
previously was CFO of Meredith Corp. for eight years and worked for 25
years at KPMG, a professional services firm. Radia, a native of
Kampala, Uganda, is a graduate of Iowa State University. He also is a
member of Mercy Medical Center's Board of Directors. Radia has received
Iowa State's Distinguished Alumni Award and United Way's Tocqueville
Award.
Dr. William E. Smith

of Paradise Valley, Ariz., an internal
medicine doctor and nephrologist and a 1970 graduate of Drake
University.Smith started his term in October, 2008, and will serve on the Academic
Affairs, Business and Finance and Student Life committees.
He is a private practice nephrologist who is board certified in
internal medicine and nephrology, the science that deals with the
kidneys. Smith, who earned his M.D. from the University of Kansas, also
is a clinical instructor in medicine at the University of Arizona
School of Medicine in Tucson. He was the 2004 fellow of the American
Society of Nephrology.