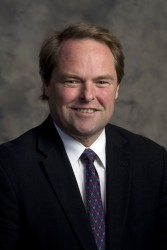 Neil Hamilton
CONTACT: Lisa Lacher, 515-271-3119, lisa.lacher@drake.edu
New York Times columnist Nicholas D. Kristof recently suggested President-elect Barack Obama appoint a bold reformer as agriculture secretary and change the position to "secretary of food."
Kristof's Dec. 11 column also mentions an online petition that "calls for a reformist pick for agriculture secretary — and names six terrific candidates," including Neil Hamilton, the Dwight D. Opperman chair of law and director of the Drake University Agricultural Law Center.
The petition is attracting national attention and as of today more than 51,000 people have signed on in support of the six "sustainable candidates" for ag secretary and a sustainable U.S. Department of Agriculture. For more information about the petition or to sign on, visit www.fooddemocracynow.org.
"A Department of Agriculture made sense 100 years ago when 25 percent of Americans engaged in farming," Kristof wrote in his column. "But today, fewer than 2 percent are farmers. In contrast, 100 percent of Americans eat."
"Renaming the department would signal that Mr. Obama seeks to move away from a bankrupt structure of factory farming that squanders energy, exacerbates climate change and makes Americans unhealthy — all while costing taxpayers billions of dollars."
Read Kristof's entire column on the New York Times Web site.
Hamilton recently was interviewed about current issues in agriculture and the secretary of agriculture position by Ken Root on WHO Radio's "The Big Show." A podcast of the interview is available online.



The phone interview was conducted from Washington, D.C., where Hamilton met last week with U.S. Department of Agriculture officials to plan the Drake Forum on America's New Farmers. The Drake Agricultural Law Center is organizing the three-day conference, which will be held next May in Washington, D.C.
Hamilton is among six top picks for the agriculture secretary recommended by nearly 90 notable figures in the world of sustainable agriculture and food who signed a letter sent to the Obama transition team earlier this month.
The letter also was mentioned in the New York Times Dining section last week. The letter is posted on the newspaper's Web site.
"I'm honored to be considered, although I'm not looking for a job. In fact, I have one of the best jobs in the world," Hamilton said. "I've had no official inquiries from the transition team, but I certainly would welcome the opportunity to serve the Obama administration in any way that I could."
Professor Hamilton is one the nation's leading authorities on the role of law in shaping agriculture and the food system. He frequently writes opinion pieces on agricultural and environmental issues for The Des Moines Register.
His most recent op-ed, published Dec. 1, urges President-elect Obama to launch a New Farmer Corps and set a 10-year goal of establishing 500,000 new farms in the United States. The opinion piece is posted on the Des Moines Register Web site.
Hamilton was raised on a family farm in Adams County, Iowa, and he and his wife, Khanh, raise vegetables for sale to local restaurants on their garden market farm, Sunstead, near Waukee, Iowa. He is founder and leader of the Slow Food Des Moines chapter.
He has lectured throughout the United States and in 20 other countries. He has taught agricultural law for 28 years and has written several books on food and agricultural law issues. Last spring, he taught one of the nation's first classes on wind law and last month he conducted a forum for Iowa lawyers on drafting and negotiating wind rights agreements.
Hamilton recently completed 21 years on the advisory board of the Leopold Center for Sustainable Agriculture at Iowa State University. He is the board chair of the Iowa Natural Heritage Foundation and chaired the Iowa Food Policy Council. He is former president of the American Agricultural Law Association and former co-chair of the U.S. Department of Agriculture Small Farms Advisory Committee. He also serves on the U.S. Department of Agriculture Farmers Market Consortium.
In addition, Hamilton serves on the boards of the National Gardening Association and the Seed Savers Exchange and was formerly a member of the board of the Farmer's Legal Action Group. He has been a consultant for many international organizations, including the United Nations Development Program in China, the World Bank and the International Potato Research Center in Lima, Peru.