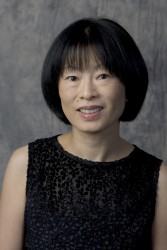 Rika Uchida
MEDIA CONTACT: Tory Olson, 515-271-1834, tory.olson@drake.edu
Rika Uchida, assistant professor of piano and music theory at Drake University, will present a recital featuring solo and chamber music for piano on Sunday, Jan. 25.
The performance, which is free and open to the public, will begin at 7 p.m. on the Jordan Stage in Drake's Sheslow Auditorium in Old Main, 2507 University Ave.
The program includes solo piano works by Rachmaninoff, Ravel and Copland; music for clarinet and piano by Schumann and Rachmaninoff; and music for voice and piano by Rachmaninoff.
The recital features three different arrangements of Rachmaninoff's "Vocalise" for solo piano, clarinet and piano and voice and piano.
"I have been obsessed with this piece," Uchida said. "In fact, I compared three different arrangements of 'Vocalise' for solo piano, have studied the orchestral version and started re-arranging it by myself. This is not the final version yet," she said.
Two of her colleagues from the Drake Music Department will join her in the performance — Professor Clarence Padilla, clarinet, and Associate Professor of Voice Leanne Freeman-Miller, soprano.
"I feel honored to collaborate with my colleagues," Uchida said. "We will have a lot of fun performing together."
Uchida suffered from a broken arm injury in August 2005, shortly after she moved to Des Moines. Her surgeon, Steve Taylor of Des Moines Orthopedic Surgeon Center, and Dana Simon, a pain control doctor at Mercy Medical Center, have been her "heroes," she said.
"If they did not help me then, I might not be playing now — I owe my life to both doctors," Uchida said. Both doctors are avid fans of classical music, and Uchida said she hopes to reach them through her music.