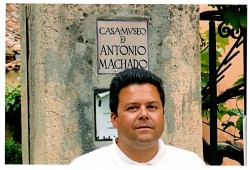 Fred Arroyo
MEDIA CONTACT: Fred Arroyo, 515-271-3828, fred.arroyo@drake.edu
Fred Arroyo, assistant professor of English at Drake University, recently was selected by LatinoStories.com as one of the 2009 Top Ten New Latino Authors to Watch (and Read).
The selection is based on Arroyo's first novel, "The Region of Lost Names," which was published earlier this year by the University of Arizona Press.
"I have to say that I rarely have so many colleagues recommend the same book," said Jose B. Gonzalez, founder and editor of LatinoStories.com, as well as editor of "Latino Boom: An Anthology of U.S. Latino Literature."
In this case," Gonzalez added, "they knew talent when they eyed it. This is a riveting book with characters of all ages who nevertheless sound so familiar, it's as if the reader has grown up with them."
"Being selected is affirming," Arroyo said. "Many writers struggle with internal and external borders, and for so long I lived with a lack of community, exilic feelings, and yet I aspired to create a 'family' and 'place' through my writing. I'm particularly pleased to be mentioned in the company of many fine Latino/a writers — and to imagine the possibilities of continuing to write within, across, and beyond borders."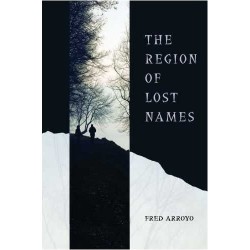 To learn more about "The Region of Lost Names," read a National Book
Critics Circle review of the novel by Rigoberto González that first
appeared in the El Paso Times.
The review is available online
.
The review describes the book as "the touching tale of Ernest and
Magdalene, star-crossed lovers separated by conflicts that predate
their families' migration from Puerto Rico. College-educated and
building careers in the Midwest, the two discover that they are not
immune to repeating their parents' mistakes — though, unlike their
elders, they hope to earn forgiveness for the errors of their ways."



Arroyo shares stories through teaching, writing
Before joining the Drake faculty in 2007, Arroyo had taught writing
and literature for six years in the United States, as well as a
graduate seminar in ethnic American literature in Madrid, Spain.
At Drake, he teaches classes in short story writing, writing the
personal essay and a First-Year Seminar, titled Mother Tongues, which
focuses on bilingual and translingual writers. In the future, he plans
to teach courses focused on Latino literature.
He holds a Master of Arts in creative writing from Purdue
University, a Master of Fine Arts in creative writing from the Program
for Writers at Warren Wilson College and a Ph.D. in English from the
University of Wisconsin-Milwaukee.
Arroyo grew up in the bilingual community of Hartford, Conn.,
before moving to Michigan. He writes fiction, poetry and essays. He is
working on new fictions and completing a book of essays, "Close as
Pages in a Book," in which he explores his interest in literacy and the
writing life, while returning to memories of childhood, migration and
work.
"Writing is an act of invention and discovery — but it arises out
of a deep emotional center, a desire to create lives and stories of
substance," Arroyo said. "I find teaching important for sharing
stories, and for helping students to achieve their own dreams through
reading and writing."