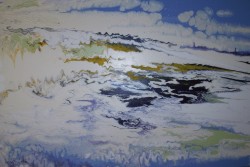 Untitled by Hui Hua Lin
CONTACT: Tory Olson, 515-271-1834, tory.olson@drake.edu
Hui Hua Lin, a Drake University painting major from Taiwan, is showcasing her artwork in Weeks Gallery in the lobby of the Harmon Fine Arts Center, 2505 Carpenter Ave.
The exhibition, which is free and open to the public, began Dec. 5 and continues through Thursday, Dec. 18.
Lin's work reflects her influences growing up in Taiwan and her experiences since moving to Des Moines in 1995.
"I try to find a balance between the one stroke technique of the Asian master, which comes from a lifetime of painting, and the textured brushwork of the European artists who rely on a complex layering of paint," Lin said.
A part-time student at Drake since 2005, Lin will graduate this December with a bachelor's degree in painting with a marketing minor and a concentration in psychology.