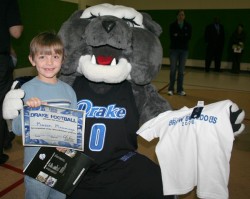 A Phillips student and Spike celebrate the culmination of the fall series.
CONTACT: Tory Olson, 515-271-1834, tory.olson@drake.edu
More students at Phillips Traditional Elementary School will have the opportunity to learn from Drake University students and athletes, thanks to a $15,000 grant from the Qwest Foundation. The grant to Drake's School of Education will support the University's Grow Bulldogs program at Phillips school.
The nine-week program is designed to help teach urban elementary students lessons in math, reading, writing, social studies and health. The lessons are based on Drake sports concepts such as using jersey numbers to teach addition and subtraction.
"Qwest is proud to team up with the Drake Bulldogs to help elementary students get excited about math and other subjects," said Iowa Qwest President Max Phillips. "We look forward to watching the Bulldog program grow and impact learning in Des Moines."
With Qwest's support, the program now has more room for growth. Program leaders hope to include new sports such as basketball and the Drake Relays, and expand the program to include more students. Extra funding also will help Drake students and program teachers with curriculum development, materials and more.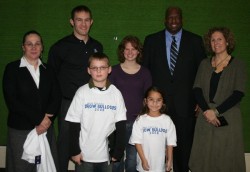 Back: Phillips Principal Laura Prior-Sweet, Shea Moroni, Drake education student Emily Krstulic, Michael Sadler and first grade teacher Chris Wellman. Front: Cody Fieldson, fifth grader, and Tyler Bernardino, first grader.
"We truly appreciate the grant from Qwest," said Tom Drake, assistant
professor of education and director of student teaching at Drake. "This
support will help Phillips students improve academically while better
preparing our students for teaching. This gift shows Qwest's commitment
to education."

Grow Bulldogs is a partnership between Drake's School of
Education, Athletic Department and Phillips school. Drake athletes and
education students visit first- and fifth-grade students every Friday.
Program participants gathered today to celebrate the culmination of
the fall session. Phillips students interacted with Spike, Drake's
mascot, and played catch with Drake football players, who signed
autographs for the students. Chris Creighton, Drake's head football
coach, also attended the celebration and congratulated Phillips
students.
"We are hoping that a lot of you will some day be students at Drake University," Creighton said.
In addition, Michael Sadler, director of policy and law at Qwest, represented Qwest Foundation at today's celebration.
The program participants and Phillips and Drake teachers thanked
Sadler and Qwest for a gift that will help the program continue next
year. Basketball will be the focus of the spring program, which will
start in late January, 2009.
For Drake students, serving as an engaged citizen is an integral
part of the Drake experience. The idea for the Grow Bulldogs program
was introduced to the School of Education in 2006 by Shea Moroni, a
student-athlete majoring in education who was looking both for a way to
gain additional hands-on classroom experience and a unique opportunity
for his fellow football teammates to give back to the community. Drake
School of Education students, with faculty guidance and in
collaboration with Phillips teachers and administrators, created
lessons with elements related to Drake football.
View more photos from the event online.