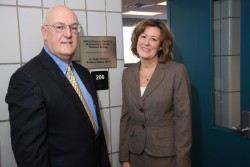 Roger and Kimberly Ceilley
MEDIA CONTACT: Tory Olson, 515-271-1834, tory.olson@drake.edu
Students and faculty in Drake University's Biochemistry, Cell and Molecular Biology program now have a place to call home, thanks to a $169,000 donation from dermatologist Roger Ceilley and his wife Kimberly Ceilley, a Drake alumna.
"We are thrilled!" said Charisse Buising, associate professor of biology and director of BCMB at Drake. "This is a significant change for our program. We have a tight-knit community, and now we actually have a home."
The funding supported the renovation of a space in Harvey Ingham Hall for the BCMB program, which is 10 years old and has grown from its first graduating class of 12 students to 165 students.
"This gift really reflects Roger's commitment to higher education and the sciences, Kim's affection for Drake, and their commitment to philanthropy," Buising said.
Students to benefit from quality resources, communal space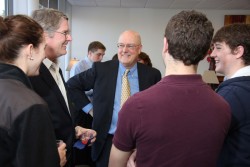 Roger Ceilley (center) visits with BCMB students and Drake Board of Trustees Chair Jim Hubbell (left).
The Ceilley Resource Center for Biochemistry, Cell and Molecular
Biology will be used for undergraduate research and interactive,
community-based learning. In addition, the donation helped transform
and provide equipment for a lab across the hallway from the resource
center.
The center offers students a place to conduct research and lab work
and make presentations. Students also have access to books, computers
and specialized computer modeling programs for making and analyzing
chemical and protein structures, Buising said.
Drake honored the Ceilleys, who live in West Des Moines, at a dedication and ribbon-cutting ceremony on Dec. 5.
"We cannot thank you enough for this resource center you have
bestowed on us," said Betsy Litman, a senior BCMB major of Apple
Valley, Minn., who spoke at the ceremony on behalf of students. "We are
forever in your debt, but we will make you proud."
Roger expressed his thanks to faculty, staff and Drake President
David Maxwell for making the program possible and successful and
emphasized the importance of Drake students to the future of science
and the health sciences industry.
"This is a very proud moment for us," Roger said. He later told
students that they are the future and encouraged them to take advantage
of the resources.
The Ceilley family: loyal Drake friends and alumni
Roger, a Cedar Falls native, is a private practice dermatologist
and dermatologic surgeon. He also is assistant clinical professor of
dermatology at the University of Iowa Department of Dermatology and
actively involved in a number of dermatologic organizations including
The American Society for Dermatologic Surgery.
He has authored and co-authored more than 100 scientific
publications, books and chapters. He also is certified in Mohs
micrographic skin cancer surgery, dermatology, dermatopathology and
cutaneous oncology.
He received a bachelor's degree from the University of Northern
Iowa and his Doctor of Medicine degree from the University of Iowa,
where he completed his dermatology residency.
Kimberly graduated from Drake in 1984 with a bachelor's degree from
the College of Business and Public Administration. She is a licensed
CPA and is a business consultant.
Their daughter, Elizabeth Ceilley, graduated summa cum laude from
Drake in 1992 and practices radiation oncology in Wheat Ridge, Colo.
The Ceilley's nephew, Sean Slaven, is a junior BCMB major at Drake from Mason City, Iowa.