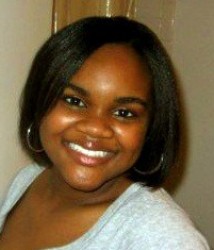 Danielle Edwards
CONTACT: Tory Olson, 515-271-1834, tory.olson@drake.edu
Danielle Edwards, a senior at Drake University, is one of nearly 40 college students who recently received the Most Promising Minority Student Award from the American Advertising Federation.
Edwards is the first winner to represent Drake for the 12 years the University has competed in the program, which recognizes exceptional students for their academic achievement and community involvement.
"I am very excited to win this award and scholarship, because it was the first time I had ever applied for something this big," said Edwards, a creative advertising and graphic design major from Kansas City, Mo.
As part of her award, Edwards received a scholarship to attend an AAF conference in New York City from Feb. 3-5, 2009. There, she will be recognized for her award and will participate in professional development seminars and meet with recruiters from global advertising agencies.
She was nominated by Drake Assistant Professor of Advertising Dorothy Pisarski, who is a professional member of the AAF. Pisarski selected Edwards for the competition because of her academic achievement, dedication to the Drake and Iowa communities and essay expressing her desire to work in advertising.
"Danielle is a poised professional with a sparkle of enthusiasm. She has always had drive and ambition, and she supports it with a deep sense of responsibility and strong work ethic," said Pisarski, who advises students in Drake's AAF-affiliated National Student Advertising Competition.
"Whether she is working on a collaborative project for class or for one of her many extracurricular activities, Danielle leads by example," she added.
Edwards has served as the co-publicity chair on Drake's Coalition of Black Students, captain of the DSquad and is the advertising manager for the Times-Delphic, Drake's student newspaper. She also works on marketing and advertising for Young Legendz Radio.
The AAF's Most Promising Minority Students Program acknowledges those minority students who are deemed exceptional by their college professors and advisers. The program commenced in 1997, in response to the advertising industry's concerns regarding identifying top minority talent for entry-level positions. Since the program's inception, AAF and its sponsoring partners have assisted in connecting the ad industry with hundreds of outstanding minority career candidates.
The program has been expanded to provide more students with the opportunity to meet recruiters from major ad agencies, media companies and client organizations and to participate in professional development workshops. The industry immersion component of the program gives the students exposure to the inner workings of major industry companies.
Read more about the program online at http://www.aaf.org/default.asp?id=214.