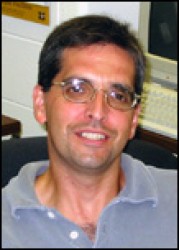 Mike Greenlief
CONTACT: Tory Olson, 515-271-1834, tory.olson@drake.edu
Mike Greenlief, assistant professor of chemistry at the University of Missouri, will conclude Drake University's fall semester Science Colloquium Series on Friday, Dec. 5. In his presentation, Greenlief will discuss "Chemistry at Low Pressure-Formation of Organic Monolayers."
The lecture, which is free and open to the public, will start at noon in room 101 of Meredith Hall, 2805 University Ave.
The talk will introduce the reason for looking at surfaces in an ultra-high vacuum environment.
"The pressure in an ultra-high vacuum is about a ten-trillionth of that of the earth's atmospheric pressure, similar to that seen in outer space," Greenlief said. "The low pressure allows me to look at surface reactions in a controlled environment with little contamination."
He also will cover research examining the formation of one layer of molecules on a semiconductor surface (silicon or germanium), which helps form the building blocks for future chemical sensor development.
Greenlief's research at the University of Missouri emphasizes physical and analytical chemistry, kinetics and spectroscopy of surface reactions on semiconductor surfaces, chemical sensors and biological mass spectrometry.
He has published more than 50 papers in refereed journals and serves as chairman of the American Chemical Society Midwest Region's Board of Directors.
Greeenlief received his bachelor's degree from Emporia State University and his doctorate from The University of Texas-Austin.
Drake's Science Colloquium Series features lectures by Drake faculty and other scholars and professionals every semester. It is an extension of the Drake Undergraduate Science Collaborative Institute, which was launched in April 2005 to promote, support and coordinate efforts to fund undergraduate research in math and science.
For more information about the series or DUSCI, contact Maria Bohorquez at 515-271-2595 or maria.bohorquez@drake.edu.