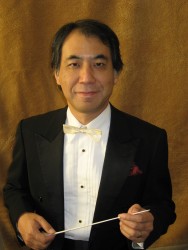 Akira Mori
CONTACT: Tory Olson, 515-271-1834, tory.olson@drake.edu
The Drake Symphony Orchestra, conducted by Akira Mori, will present Beethoven's famous Violin Concerto, featuring Drake Assistant Professor of Violin Sarah Plum, and Dvorak's Symphony No. 8 on Tuesday, Dec. 9.
The concert, which is free and open to the public, will start at 8 p.m. on the Jordan Stage in Sheslow Auditorium in Old Main, 2507 University Ave.
"Beethoven's Violin Concerto is the only concerto for violin that Beethoven completed," Mori said. "It was composed during his 'middle period' — a time of extreme creativity for Beethoven — and it is considered a monumental work for violin and orchestra.
"The Dvorak is a wonderful symphony and part of the repertoire that
young musicians should learn," Mori said. "Dvorak loved the nature of
Bohemia, and this symphony has many of the sounds and beauties that one
finds in nature — even in the nature here in Iowa."
Plum: renowned violinist and performer
Plum joined the Drake music faculty in 2007 after a distinguished career as a performer. She won the first prize in the International Stulberg Competition in 1984 and has appeared on stages in the U.S. and abroad as a soloist and chamber musician.
She has premiered numerous pieces by composers such as Brian Ferneyhough, Salvatore Sciarrino and Sidney Corbett. Plum has played on TV and radio broadcasts on Deutsche Welle and BBC, among others. Her recordings appear on the Bridge, BMG, Arte Nova, Albany and Cappriccio labels.
Plum received a bachelor's and master's degree from Juilliard School and a doctor of musical arts degree from State University of New York-Stony Brook.
Mori: internationally renowned conductor and dedicated professor
A native of Japan, Mori was appointed the director of orchestral studies and assistant professor at Drake in 2008.
His previous conducting engagements include the Tokyo Symphony, Tokyo Chamber Orchestra and Minnesota Orchestra, among others. He also has served as a professor and conductor in music schools such as Indiana University, University of Minnesota and Tokyo College of Music.
Mori received his bachelor's degree in flute performance from the New England Conservatory and master's degree in orchestral conducting from Indiana University.