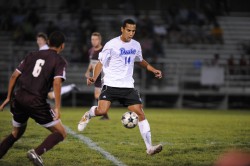 Junior Garrett Webb brings the ball down the field.
The Drake men's soccer team has been rewarded for its school-record-setting season by earning a berth in the NCAA Soccer Tournament.
The Bulldogs, who are the only team to play NCAA Division I men's soccer in Iowa, will play Saint Louis University at St. Louis on Friday, Nov. 21, beginning at 7 p.m.
The winner will play at No. 6-seeded Indiana on Tuesday, Nov. 25, at 7 p.m.
Friday's game will mark the first NCAA Tournament appearance for Drake, which has fielded a men's intercollegiate soccer program since 1986.
"I am so excited for our young men on our team; they are a terrific bunch of guys," said Drake Head Coach Sean Holmes, who is in his 11th season as head coach at Drake.
"This is the result of 11 years of hard work by a lot of people, not just the 31 players on this year's squad."
Saint Louis (10) and Indiana (seven) have combined to win 17 NCAA titles.
"The fact that they put us in the bracket with Saint Louis and Indiana — two of the winningest programs in NCAA history — makes this season's adventure even more unbelievable," Holmes said.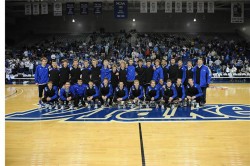 The nationally ranked Bulldogs pose for a team photo at the Knapp Center.
The Bulldogs own a school-record 13-4-1 mark, having been nationally ranked for the last 10 weeks.
Saint Louis has an 11-4-5 record. Saint Louis beat Drake, 2-1, in
the only other meeting between the schools, 1998 at Omaha, Neb.
Holmes said the NCAA Tournament selection was even more gratifying
considering that the Bulldogs' roster has just one senior starter (Ryan
Moylan), and a heavy local flavor featuring nine former Iowa high
school standouts.
"What makes this exciting is that Iowa kids are the core of our
team, and this proves we can be competitive with former Iowa high
school players," Holmes added.
Drake and Saint Louis have played two common opponents — Missouri State and Creighton.
Drake beat Missouri State, 3-2, in Des Moines and then tied the
Bears, 1-1, in the semifinal round of the State Farm Missouri Valley
Conference Tournament last Friday. But Missouri State advanced on
penalty kicks. Saint Louis earned a 3-0 home victory past Missouri
State.
Saint Louis and Creighton battled to a goalless tie on Oct. 4 in
St. Louis. Creighton claimed a 2-0 home victory past Drake on Nov. 1.