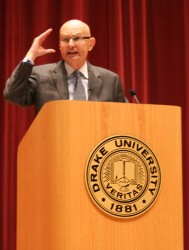 Lon Larson
MEDIA CONTACT: Lisa Lacher, 515-271-3119, lisa.lacher@drake.edu
Drake University pharmacy professor Lon Larson recently shared the
insights he has gained while battling cancer in a lecture titled
"Choose Your Attitude."
Hundreds of students, faculty, staff, alumni and cancer survivors
gathered to listen to Larson give the Student Leadership Development
Lecture on Friday, Nov. 14, in Drake's Sheslow Auditorium.



Experience Larson's insightful and thought-provoking lecture by watching this video.
Or read the lecture, which is posted on the Drake Web site.
Larson, the Ellis and Nelle Levitt professor of pharmacy administration, is a cancer patient survivor as well as the
father of a cancer patient survivor.
His doctors told him in July that he had three to six months to
live. He used what might have been his last lecture to encourage
students to live positively and to savor each moment, even if the
moment offers something unexpected or unpleasant.
"Each of us gets to choose our attitudes," he said. "We can worry
about a future that may never arrive, or relive the past, or we can
live in this moment and be thankful for it."
A 1972 graduate of Drake, Larson joined the Drake faculty in 1991.
He is the only member of Drake's faculty and staff to have twice
received the University's top award for mentors. He also received the
Alumni Achievement Award from Drake's College of Pharmacy and Health
Sciences and was named Pharmacy Teacher of the Year in 2000 and 2002.
Larson was first diagnosed with Mantle cell lymphoma, a rare form
of non-Hodgkin's lymphoma, in October 2006. Since then, his colleagues
and current and former students have offered much support and
encouragement to Larson and his wife, Linda Krypel, professor of
pharmacy practice at Drake.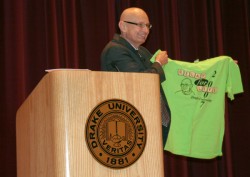 Lon Larson proudly displays a T-shirt from a cancer-awareness event students organized on his behalf.
In his lecture, Larson said he was especially touched by the bone
marrow registry that students conducted while he was undergoing a stem
cell transplant in the spring of 2007. He held up a T-shirt from the
event and said the outpouring of support left him truly overwhelmed.
Larson concluded his lecture by paying tribute to baseball great
Lou Gehrig and the positive comment he made in his farewell appearance
at Yankee Stadium.
"Finally, Mr. Gehrig, if I may steal your thunder," Larson said. "Today — I am the luckiest person in the world!"