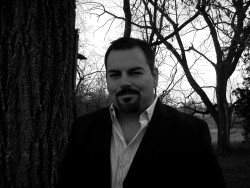 Edward Corpus
CONTACT: Tory Olson, 515-271-1834, tory.olson@drake.edu
Drake University Music Lecturer Edward Corpus will present a wide array of music in the "Urban Cowboy Show" at Drake University on Wednesday, Dec. 10. The concert will include music from genres including original and classic adult-contemporary, rhythm and blues, soul and his original brand of country-soul.
The concert, which is free and open to the public, will start at 8 p.m. in the Mainstay, 2507 Forest Ave.
"If you like Elton John, Donald Fagen, Luther Vandross, Phil Vassar and other adult contemporary, country and soul artists, you'll enjoy this concert," Corpus said. "This is an exciting alternative to the typical vocal recital."
The show will feature Corpus on keyboard and vocals, a rhythm section comprised of students from the Drake jazz program and backup singers from the University's voice program.
Corpus earned a Bachelor of Music at Illinois State University and a Master of Music at the University of Nevada – Las Vegas. He is in the Musical Arts doctoral degree program at the University of Iowa.
For more information, call 515-271-3975.