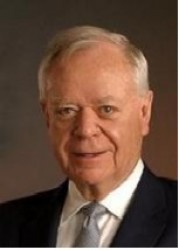 Fred Turner
MEDIA CONTACT: Tory Olson, 515-271-1834, tory.olson@drake.edu
The music program at Drake University will continue to grow through a new endowed professorship for jazz studies, thanks to a $1 million gift from Drake alumnus Fred Turner. The position is named after Turner, retired senior chairman of McDonald's Corp., and his late wife, Patty, a Drake alumna who died in 2000.
Drake professor Andrew Classen will be recognized as the inaugural holder of the Fred and Patty Turner Professorship in Jazz at the first annual Fred and Patty Turner Concert featuring Drake Jazz Ensemble I on Tuesday, Nov. 18.
Turner also will be honored at the concert, which begins at 7:30 p.m. in the Performing Arts Hall, Harmon Fine Arts Center, 25th Street and Carpenter Avenue. The performance, which is free and open to the public, will include the premiere of Classen's new composition, "A Count Ability."
"I love music. Jazz is a personal passion," Turner said. "And I believe in giving back . . . it's a value the love of my life, my wife Patty, and I shared. Patty and I met at Drake. She also loved music and could sing, play the piano and guitar, and play a mean ukulele.
"And my mentor, Ray Kroc, was a musician — a piano player — long before he ever thought of running a corporation named McDonald's. And so, creating a jazz professorship at my alma mater, Drake University, is a perfect fit. It's also my way of making sure the music plays on."


Classen selected for his talents and commitment to jazz studies
The professorship recognizes the talents and achievements of Classen, professor of trumpet and director of jazz studies, and his commitment to promote and preserve jazz at Drake and within the music industry. The gift will provide resources for Classen to build on the University's jazz legacy and ensure students have opportunities to work with the nation's finest teachers and musicians.
All Drake music majors can benefit from the gift because they are eligible to take the jazz concentration, in which students are taught the skills to be a marketable professional jazz and studio musician. They also learn about the history of jazz, improvisational techniques, arranging and composition and studio recording techniques.
"As long as I have been at Drake, there has been an exceptional level of support for music, and jazz in particular," Classen said. "Thanks to President Maxwell, we are one of the only universities in the country that has its own jazz building. With the generous gift from Fred Turner we now have the ability to take the Drake jazz program to even greater heights."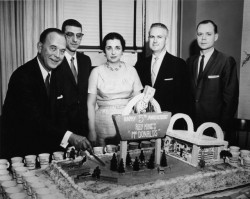 Celebrating the fifth year of McDonald's in 1960 with Ray Kroc cutting the cake, Harry Sonnenborn, June Martino, Don Conley and Fred Turner.
Turner instrumental in building McDonald's into a corporate giant
Turner enjoyed a long and distinguished career with McDonald's
Corp. He set out to acquire the sixth franchise in the fledgling hamburger chain, but first wanted to learn the operation, so he started working as a counterman at Ray Kroc's first
franchise restaurant in Des Plaines, Ill. Instead of becoming a franchise owner, he became one of the first employees of McDonald's Corp. in 1956 when Kroc asked him to supervise the operations of newly opened restaurants.
He began to quickly move up the ranks in the company. He served as operations vice president, executive vice
president, president, chief administrative officer, CEO, chairman and senior chairman. He also was a member and CEO of McDonald's Board of Directors.
Turner, of Deerfield, Ill., played a key role in building a
hamburger restaurant into a corporate giant and expanding McDonald's
into the international market. He received the Horatio Alger Award and was named Adman of the Decade for the 1980s by Advertising Age magazine.
A major philanthropist, he is a lifetime trustee of the Ronald
McDonald House Charities and has helped support medical and research
centers, colleges and universities, child services, national institutes
and more.
Turner was a Drake Board of Trustees member and received the
Distinguished Service Award, Drake's top honor for alumni. He attended
Drake from 1951 to 1953 and received an honorary Doctor of Law degree
from the University in 1983.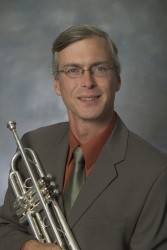 Andrew Classen
Classen renowned as musician and composer
Classen, who joined Drake in 1992, is professor of trumpet, director of jazz studies and chair of the Music Department.
He is principal trumpet with the Cedar Rapids Symphony, has played with numerous Broadway shows and is an active jazz composer.
He is a frequent clinician and guest artist for recitals, master
classes and seminars on the regional, national and international level.
He also has been a drill designer and instructor for many drum corps
and marching bands.
A native of St. Paul, Minn., Classen received a Bachelor of Arts in music education from the University of Wisconsin Eau-Claire and a
Master of Music in trumpet performance from the University of
Tennessee.
Read more about Andrew Classen online.
Jazz Ensemble I
takes top honors
Under Classen's leadership, Jazz Ensemble I has performed at prestigious jazz festivals and received top ratings.
Festivals and top honors include:

The North Sea Jazz Festival in Holland
The Montreaux Jazz Festival in Switzerland
The University of Wisconsin Eau-Claire Jazz Festival, named Outstanding College Jazz Ensemble five times
The Notre Dame Jazz Festival, received 23 outstanding soloist awards
The Elmhurst Jazz Festival
The University of Kansas Jazz Festival where Jazz Ensemble I performed as the featured college jazz ensemble.
In addition, the ensemble has worked and performed with artists
such as: Maria Schneider, David Berger, Paul McKee, Dick Oatts, John
McNeil and Ryan Kisor. The group also has recorded five CDs in the past
few years.
The group has recorded a new holiday CD, "Swingin' into the
Holidays," which will sell for $20. Order forms for the CD will be
available at the ensemble's Nov. 18 concert.
In addition, the ensemble will perform a European tour benefit
concert, "Swingin' Holiday Spectacular," at 8 p.m. Thursday, Dec. 11,
in Drake's Performing Arts Hall, Harmon Fine Arts Center. Proceeds will
help fund the tour, which includes a performance at the North Sea Jazz
Festival in Holland as well as concerts in England, London and Paris.