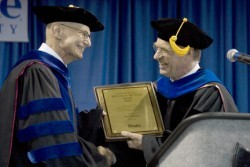 Lon Larson, left, accepts his second Madelyn M. Levitt Mentor of the Year Award from Provost Ron Troyer in 2007.
MEDIA CONTACT: Lisa Lacher, 515-271-3119, lisa.lacher@drake.edu
Lon Larson, the Ellis and Nelle Levitt professor of pharmacy administration at Drake University, will discuss his views and philosophies in a lecture titled "Choosing your Attitude" at 3 p.m. Friday, Nov. 14, in Sheslow Auditorium in Old Main, 2507 University Ave.Read more about Larson and his talk in today's Des Moines Register.
The lecture, which is free and open to the public, is part of the Student Leadership Development Series in Drake's College of Pharmacy and Health Sciences. Larson, who is battling cancer for a second time, is expected to have other cancer survivors join him at the lecture.
Larson earned his bachelor's degree in pharmacy from Drake in 1972 and went on to receive a Ph.D. from the University of Mississippi before joining the Drake faculty in 1991.
He is the only member of Drake's faculty and staff to have twice received the Madelyn M. Levitt Mentor of the Year Award. He was first honored with the award in 1997 and then again in 2007.
Students describe Larson as a dedicated professor who shows concern for everyone.
"Whether he's providing logical, calculated advice about internship options or just sharing a smile, Dr. Larson is one of the most amazing emotional caregivers I've ever met," Courtney Jahnke, a pharmacy student, wrote in a nomination letter for the 2007 Levitt Mentor of the Year Award. "He is a spiritual leader, and the passion of his career and the spirit of who he is are not two separate things. The impressions he has left on me are deep and life-changing."