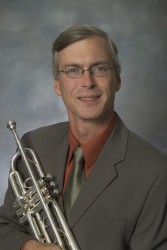 Andrew Classen directs Jazz Ensemble I.
CONTACT: Tory Olson, 515-271-1834, tory.olson@drake.edu
Drake Jazz Ensemble I will perform a European tour benefit concert, "Swingin' Holiday
Spectacular," at 8 p.m. Thursday, Dec. 11, in Drake's Performing Arts
Hall, Harmon Fine Arts Center, 25th Street and Carpenter Avenue.
Proceeds will help fund the ensemble's 2009 summer
tour, which includes a performance at the North Sea Jazz Festival in
Holland, as well as concerts in London and Paris.
Tickets are
$25 and can be purchased at the door and through the Drake Fine Arts
Box Office at 515-271-3841.
Singer Wicker Van Orsdel will appear as a guest artist and the ensemble will perform several works from its first holiday CD, "Swingin' into the Holidays."
The recording, which includes selections performed by the Drake Faculty Jazz Quintet, features holiday favorites such as "Jingle Bells," "Here Comes Santa Claus," "Silent Night," "Greensleeves," "I'll be Home for Christmas" and "Baby It's Cold Outside." The CD will be available for purchase for $20 at the concert. An order form for the CD also is posted on the Drake Web site.
Jazz I is directed by Andrew Classen, who recently was named the inaugural holder of the Fred and Patty Turner Professorship in Jazz. He also serves as director of the jazz studies program.
Under Classen's leadership, Jazz I has performed at prestigious jazz festivals and received top ratings.
Festivals and top honors include:

The North Sea Jazz Festival in Holland
The Montreaux Jazz Festival in Switzerland
The University of Wisconsin Eau-Claire Jazz Festival, named Outstanding College Jazz Ensemble five times
The Notre Dame Jazz Festival, received 23 outstanding soloist awards
The Elmhurst Jazz Festival
The University of Kansas Jazz Festival where Jazz Ensemble I performed as the featured college jazz ensemble
In addition, the ensemble has worked and performed with artists such as Maria Schneider, David Berger, Paul McKee, Dick Oatts, John McNeil and Ryan Kisor. The group also has recorded five CDs in the past few years.