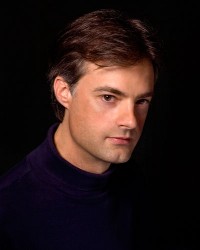 Nicholas Roth
MEDIA CONTACT: Tory Olson, 515-271-1834, tory.olson@drake.edu
Nicholas Roth, Drake University assistant professor of piano, will present "The Novellettes of Robert Schumann" on Monday, Dec. 1.
The recital, which is free and open to the public, will start at 8 p.m. on the Jordan Stage in Sheslow Auditorium in Old Main, 2507 University Ave.
"Unlike many of Schumann's works, which are unified by an identifiable formalistic or cyclical idea, the Novellettes are an unwieldy group of schizophrenic entities whose mercurial changes of mood create an atmosphere of extreme unpredictability," Roth said. "These pieces are quintessential examples of romantic exuberance and hold a unique place in the works of Robert Schumann."
Roth began formal studies at age 12 and started receiving critical acclaim for his appearances by the age of 18. He appeared as soloist with the St. Louis Symphony and the Indianapolis Symphony under Raymond Leppard, among others.
He has been featured in recitals and festivals throughout the United States, Germany and Spain. He was a Beethoven Fellow of the American Pianists Association and won first prizes in the chamber music competitions of Tortona and Pietra Ligure, Italy.
Roth holds a Doctor of Musical Arts from Michigan State University, an Artist Diploma from the Hochschule für Musik in Munich, Germany, and master's and bachelor's degrees from Indiana University, where he was the recipient of the School of Music's highest honors.
His solo recordings with Blue Griffin Recording have garnered several favorable reviews in Fanfare, American Record Guide, International Record Review and Gramophone.