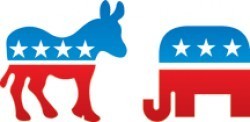 MEDIA CONTACTS: Lisa Lacher, 515-271-3119,
lisa.lacher@drake.edu
;
Julie Rutz, 515-226-8774,
rutz@IowaPolitics.com
Drake University will host a bipartisan forum Friday, Nov. 14, on the role women play in Iowa politics and future prospects for women to be elected to represent Iowans in Congress.
The featured speakers will be:

Dianne Bystrom, director of the Carrie Chapman Catt Center for Women and Politics at Iowa State University
Becky Greenwald, Iowa Congressional candidate
Mary E. Kramer, former U.S. ambassador
Mariannette Miller-Meeks, Iowa Congressional candidate
Jo Ann Zimmerman, former Iowa lieutenant governor
The event, which is free and open to the public, will start at 11 a.m. in Levitt Hall in Old Main, 2507 University Ave.
Reservations are required for the event, which is sponsored by Drake, IowaPolitics.com and Mediacom, as part of the Cookies and Conversation Series. For reservations, call 515-226-8774 or send an e-mail to Julie Rutz at rutz@IowaPolitics.com.
IowaPolitics.com Des Moines Bureau Chief Lynn Campbell will moderate the program and questions will be accepted from audience members. The panel discussion will be televised to a statewide audience on the Mediacom Connections Channel and will be available for On Demand viewing from Mediacom on Channel 1.
Doors to Levitt Hall will open at 10:30 a.m. Free parking will be available in Drake lots at 26th Street and University Avenue and at 25th Street and Carpenter Avenue.
IowaPolitics.com is an independent, nonpartisan news operation offering a free Web site at www.IowaPolitics.com and paid subscriber products.