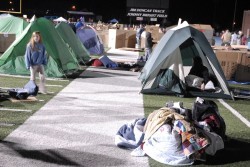 Tents and cardboard boxes filled Johnny Bright Field in Drake Stadium during last year's sleepout.
Drake University will open its stadium for the third annual Reggie's Sleepout, a fundraiser for Iowa Homeless Youth Centers and an event to raise awareness of youth homelessness in Iowa, on Friday, Nov. 14. The sleepout will start at 7 p.m. on Friday and conclude at 7 a.m. on Saturday, Nov. 15, in Drake Stadium, 2719 Forest Ave.
Participants will sleep in boxes, sleeping bags or puptents to raise money, awareness and honor the memory of Reggie Kelsey, who was found dead in the Des Moines River several months after being aged out of the foster care system in 2001.
The event will feature food, including pizza and pasta, as well as activities and entertainment such as a box decorating contest, music and a scavenger hunt. Top fundraising individuals and teams will win gift cards and certificates from Hilton Garden Inn, Jordan Creek Towncenter, Jethro's and Toys 'R Us.
The Richard O. Jacobson Foundation announced it will match 50 cents to each dollar raised up to $50,000, and American Trust Bank will donate $10,000 to the fundraiser.

Sponsors hope that more than 1,000 people will register and the event will raise $150,000 this year as compared to $138,561 in 2007 with nearly 1,000 participants.
Registration will be held before the event at the Drake Fieldhouse, 2701 Forest Ave., from 3-8 p.m. on Nov. 14. Reggie's Sleepout T-shirts will be available for purchase at the event for $25.
For more information or to register online, visit the Web site. To volunteer, contact Nikki Dempsey, events coordinator for Iowa Homeless Youth Centers, at 515-265-1222 or ndempsey@yss.ames.ia.us.
Sponsors for the event are: 
American Trust Bank, Nationwide/Allied Insurance, Wells Fargo, Iowa Farm Bureau, Tucker Law Firm, Drake University, Principal Financial Group, The Salvation Army, Citadel, Des Moines Register, KCCI Des Moines TV 8 and Red Dot Design.