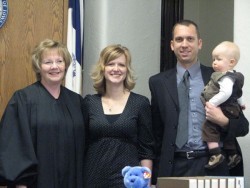 Judge Donna Paulson and Andy, Tara and Miles Goodman at last year's Adoption Saturday.
MEDIA CONTACT: Tory Olson, 515-271-1834, tory.olson@drake.edu
National Adoption Month will culminate by uniting dozens of children with new families at the eighth annual Adoption Saturday, to be held from 8:30 a.m. to noon Saturday, Nov. 15, at the Polk County Courthouse, 500 Mulberry St.
Drake University Law School's Joan and Lyle Middleton Center for Children's Rights is teaming up with the Polk County Model Court and KidSake Foster/Adopt Iowa to present the event, which is free and open to the public.
Adoption Saturday is part of a nationwide effort to finalize adoptions of children from foster care during National Adoption Month. In 2007, 40 local adoptions were finalized on Adoption Saturday.
A half-hour public program featuring key speakers –Wayne Alexander, an 18-year-old adoptee and Melissa Rhoads, an adoptive mother of five — will start at 10:30 a.m.
An informational fair will take place on the first floor of the courthouse, where professionals will provide information about local and international adoption agencies and highlight the need for foster parents. The second floor of the courthouse will host private adoption proceedings.
Local businesses have donated refreshments and other donations for adoption participants. Sponsors are: Prairie Meadows, Casey's General Store, HyVee, Java Joes, Polk County Sheriff's Office, Courthouse Employees, Girl Scouts of America, Boesen The Florist, Iowa Student Bar Association, Elevate and University Photo.
The Joan and Lyle Middleton Center for Children's Rights was established at the Drake Legal Clinic in 2001 with a $1 million gift from Drake alumni Joan and Lyle Middleton. The Middleton Center advances children's rights through the legal process, training programs, public information and public policy formulation. Drake law students actively participate in the interdisciplinary programs.
For more information about Adoption Saturday, contact Ronnie Hawkins at the Middleton Center for Children's Rights at 515-271-3857.