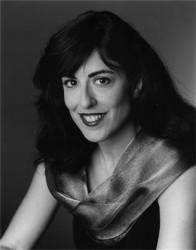 Barbara Leibundguth
MEDIA CONTACT: LISA LACHER, 515-271-3119, lisa.lacher@drake.edu
After a 20-year hiatus, flutist Barbara Leibundguth and pianist Elizabeth Mueller Grace will reunite as Capriole Duo for a guest recital at Drake University on Monday, Nov. 17.
The performance, which is free and open to the public, will start at 8 p.m. on the Jordan Stage in Sheslow Auditorium in Old Main, 2507 University Ave.
The program will feature flute music both old and new, with favorites by Handel, Bloch and Georges Hue, as well as lesser-known works by American composer Lukas Foss and neo-classical Dutch composer Jaap Geraedts. A highlight will be Toru Takemitsu's unaccompanied piece "Itinerant," which recalls the sound of the shakuhachi, a traditional Japanese end-blown bamboo flute.
Leibundguth and Grace formed the Capriole Duo in the early 1980s when they were members of the Omaha Symphony. They performed throughout the Midwest until they both moved away from Omaha.
Leibundguth, an adjunct professor at Gustavus Adolphus College, has performed as principal flute with major orchestras in Boston, San Francisco, Atlanta, Omaha and Houston and she is a former co-principal flute with the Minnesota Orchestra. She has been featured as a solo flutist with orchestras on the Telarc, Philips and Virgin Classics labels.
She is a graduate of Northwestern University and her major teachers were Walfrid Kujala, Donald Peck, Susan Levitin, and Marcel Moyse. She has been featured in the Dame Myra Hess Memorial recital series in Chicago and on National Public Radio's "Performance Today." Leibundguth recorded the CD "Visionary Duos for Flute and Piano" in 2001 and was awarded a McKnight Fellowship for Performing Artists in 2002.
Grace, an adjunct faculty member at the Dorothy Taubman Institute, has toured throughout the United States as an orchestral soloist, chamber musician and recitalist. Her performances have been praised for their "depth of sound, intelligent interpretation and fluid technique."
The recipient of numerous prizes and awards, Grace has performed with the Houston, Topeka and Omaha Symphony orchestras. She has worked with many renowned conductors, including Maxim Shostakovich and Christoph Eschenbach, among others.
She holds a Master of Music in piano performance from the Eastman School of Music and a Bachelor of Music from Nebraska Wesleyan University.
For more information about the Capriole Duo guest recital, call 515-271-3975.