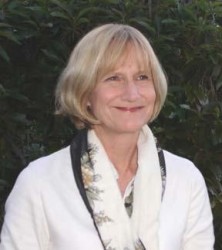 Alison Weir
MEDIA CONTACT: Tory Olson, 515-271-1834, tory.olson@drake.edu
Alison Weir, founder of "If Americans Knew," will deliver a talk at Drake University about the Israeli-Palestinian conflict on Saturday, Nov. 8.
The lecture, "Israel-Palestine Behind the Headlines," will begin at 6:30 p.m. in Cool Beans in Hubbell Dining Hall, 1315 30th St. The event is free and open to the public.
After the talk on Nov. 8, Drake will host two workshops at 8 p.m. titled "Getting Your Message Out There: Letters to the Editor" and "Inside Palestine: A Personal View."
Weir was inducted as the first-ever woman honorary member of Phi Alpha Literary Society in March of 2004 for her expertise on the Israeli-Palestinian conflict. The award cited her as a "courageous journalist-lecturer on behalf of human rights."
She went as a freelance journalist on an independent investigation of the flashpoints in the West Bank and Gaza rarely visited by American journalists. Since returning, she has spoken on Capitol Hill, to business leaders, at think tanks in Washington D.C. and at a multitude of universities.
"If Americans Knew" is an independent research and information-dissemination institute, with particular focus on the Israeli-Palestinian conflict, U.S. foreign policy regarding the Middle East and media coverage of this issue.
The event is sponsored by Drake Student Activists Against War, Drake Muslim Students Association and the Des Moines chapter of American Friends Service Committee.
For more information, contact Shahmeer Aarbi at 515-771-2768 or shahmeer.aarbi@drake.edu.