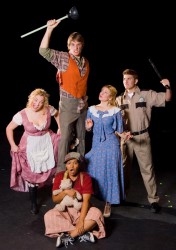 From left: Elizabeth Ward, Sierra White, Samuel Button-Harrison, Heather Herkleman and Nicholas Toussaint star in Drake's production of "Urinetown."
CONTACT: Karla Kash, 515-271-2897, karla.kash@drake.edu;

Lisa Lacher, 515-271-3119, lisa.lacher@drake.edu
Drake University Theatre's production of the Tony Award-winning musical "Urinetown" continues today through Sunday, Nov. 16, under the direction of Karla Kash, Drake assistant professor of theatre arts.
The dark musical comedy originally debuted in 2001 and was nominated for 12 Tony Awards. It won three in 2002:
• Director – Musical: John Rando

• Musical Score – Musical: Mark Hollmann, music; Hollmann and Greg Kotis, lyrics

• Book – Musical: Kotis
The setting for "Urinetown" is a run-down city, which has suffered through a 20-year drought. The government has placed a ban on private bathrooms, meaning people must pay to use the filthy public facilities. The Urine Good Company, a greedy corporation, runs the system.
One day UGC employee Bobby Strong decides that he has had enough, and convinces the citizens to fight a rebellion against the corrupt company.
"Urinetown" is a comedy, parodying traditional Broadway musicals and satirizing corporate greed. The humor is outrageous, but there is a darker message underneath.
"The play was written as a satire on the eve of the new millennium," Kash said. "But with today's headlines of stock market freefalls and election debates spotlighting the disintegration of American's middle class, 'Urinetown's' social commentary and tongue-in-cheek references to corporate greed and public apathy couldn't be more real. And there's no Hollywood ending here!"
Performances will start at 8 p.m. Nov. 13, 14 and 15 and at 2 p.m. Sunday, Nov. 16, in the Performing Arts Hall, Harmon Fine Arts Center, 25th Street and Carpenter Avenue. The show runs approximately two hours.
Admission is $6 for adults, $4 for students and senior citizens and those with a Drake ID. Tickets are available at the Fine Arts Center Box Office. Reservations may be made in person or by calling 515-271-3841.