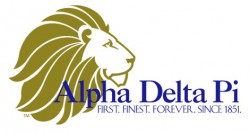 MEDIA CONTACT: Lisa Lacher, 515-271-3119,
lisa.lacher@drake.edu
Alpha Delta Pi Sorority recently received approval from the Drake University Panhellenic Council Extension Committee to become the fifth sorority at Drake.
Although Alpha Delta Pi has never had a chapter at Drake, the sorority has chapters at Iowa State, the University of Iowa and the University of Northern Iowa. In addition, the sorority has approximately 350 alumnae in the Des Moines area.
Alpha Delta Pi is scheduled to begin recruitment efforts in the spring of 2009. The first students to be initiated into the chapter will be charter members of the Drake chapter.
"We look forward to an exciting and busy spring 2009," said Chris Juhl, Drake's director of fraternity and sorority life. "The addition of new chapter to our community means a great deal of work for all current chapters, students, faculty and staff."
"Being able to see this process from beginning to selection was so rewarding," said Lindsay Eickstaedt, president of the Drake Panhellenic Council. "I am excited to welcome the women of ADPi to Drake University and look forward to assisting them during their colonization process."
Extension has been anticipated for several years
Plans for an additional sorority have been in the works for several years.
"Upon my arrival to Drake in the summer of 2007, one of the first themes I heard repeated among the Panhellenic representatives was the interest in extension," said Juhl. "After seeing a major increase in interest that fall, I decided it was time to take formal action."
A committee representing undergraduates and alumnae from the four sororities was formed in the spring of 2008 and soon after, made a recommendation to the Panhellenic Council that Drake open for extension.
After approval of the recommendation, an announcement was sent to the 22 National Panhellenic Conference sororities not already represented at Drake, informing them that Drake was open for extension and the details of the application process.
Nine sororities submitted applications and late last spring the Extension Committee selected three finalists to bring to campus this fall: Alpha Delta Pi, Alpha Xi Delta and Delta Zeta.
Representatives of each of the candidates visited Drake this fall and made general presentations about their interest in joining Drake's Greek community. Finally, the Extension Committee met at the end of October to review the feedback and decide which sorority would be invited to Drake.
Upon learning of its selection, Alpha Delta Pi officially accepted Drake's offer the next day.
"Alpha Delta Pi is deeply honored to have been selected to join the vibrant and growing Greek Life program at a prestigious institution such as Drake University," said Tiffany Eisenbise, campus services manager of Alpha Delta Pi. " We look forward to being a positive and contributing member of the Drake community."
Mother of today's sorority system
Founded May 15, 1851, at Wesleyan Female College in Macon, Ga., Alpha Delta Pi holds the distinction of being the first secret society for women and the mother of today's sorority system.
The sorority was founded on the principles of scholarship, leadership, service to others and sisterhood. These principles still guide the policies and programs of the sorority today.
To date, Alpha Delta Pi has initiated more than 210,000 women, many of whom are actively involved in one of more than 130 collegiate chapters or 150 alumnae associations throughout the United States and Canada.