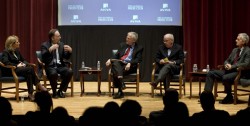 Laura Hollingsworth, Steve Buttry, Moderator Gil Klein, Michael Gartner and Dave Busiek discuss advertising for the Web.
National Press Club panel at Drake reveals challenges for journalism industry

Key Iowa journalists gathered at Drake for a National Press Club forum to discuss challenges for the industry including rethinking the business model and gaining new tools to keep quality journalism alive.
"The business model is clearly broken," said Laura Hollingsworth, publisher of the Des Moines Register, part of the Gannett Company that announced this week another 10 percent cut in personnel.
Supporting quality reporting and investigative projects is the essential piece of what the company is doing, she said, but it is only one piece.
Hollingsworth was speaking at one of the National Press Club's forums on "The First Amendment, Freedom of the Press and the Future of Journalism," co-sponsored by Drake's School of Journalism and Mass Communication. The club is holding forums around the country to celebrate its 100th anniversary.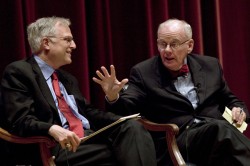 Moderator and past National Press Club president Gil Klein (left) and Michael Gartner (right)
Michael
Gartner, who had been president of NBC News as well as a Pulitzer
Prize-winning print editor, publisher and columnist, said the newspaper
industry should take a lesson from what happened to television news
when cable and satellite television challenged the three major
networks.
"I lived through all of this 25 years ago at NBC," he
said. "It was the same dire threat that these folks are facing now. You
lost exclusivity, you lost your immediacy, and you lost a big chunk of
your audience and a big chunk of your revenue."
Dave Busiek, who is news director at KCCI-TV and a past
chairman of the Radio-Television News Directors Association, said his
station is reexamining everything it does as it faces revenue
shortfalls, including embracing the Web and new technology for
delivering news to people where they are.
But that still doesn't answer the question of where the money comes from to pay for it, he said.
"Any
newsroom needs a certain number of feet on the street to do original
reporting," he said. "I don't think there is one right answer. All I
know is that if we are not out on the leading edge of trying some of
these new ideas and figuring out what works and what doesn't, we're not
going to be around very long."
Steve Buttry, the editor of the Gazette of Cedar Rapids
and GazetteOnline, said news organizations have to look at Web
advertising differently.
"Think of how much of the content of a traditional newspaper is related to someone's decision to buy something," he said.
A
person reading a bridal announcement will want to buy a gift or two. If
it's online, a person could click on the bridal announcement and be
connected to the bridal registry and can buy the gifts right there.
"You can see that if we start becoming the community
marketplace where you actually conduct the transaction, that is so much
more valuable to the advertiser than just the advertising model of
selling eyeballs," he said. "That's where we need to go."
Details and highlights of these forums, sponsored by
Aviva USA, can be found at the National Press
Club's Web site.