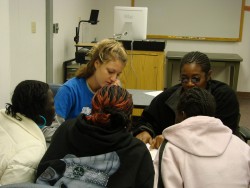 Professor Shelley Fairbairn invited a group of African refugee students to Drake on a recent Saturday to learn about the college experience in the hopes of encouraging them to pursue a college education after high school.
Students from one of Fairbairn's undergraduate classes volunteered their time to host the seven teenagers. They presented a Powerpoint about Drake and their shared their individual stories about their studies, family backgrounds, and reason's for choosing Drake. The refugee students then shared their career ambitions and the Drake students explained how attending a four-year university would help them reach those goals.
Later, the group took a tour of Drake's campus that included eating lunch with the college students. The student's day concluded with tickets to a Drake football game.