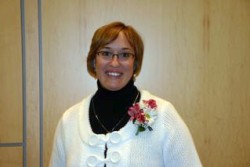 Deana Horras-Colbert
Drake graduate student receives state award for excellence in education

By Emilee Richardson
Deana Horras-Colbert, AS'92, recently received Iowa's 2008 Excellence in Education Award for her work with the alternative program and students at English Valleys High School.
The award recognizes educators who go above and beyond the scope of their work and change the lives of the students they teach, according to Chris Bern, president of the Iowa State Education Association. Teachers are nominated by co-workers, students and community members.
The 2008 Excellence in Education Award is sponsored by the Iowa State Education Association, Iowa Farm Bureau, WHO Radio and KDSM Fox 17. Horras-Colbert received a cash prize of $1,000 and her school also received $1,000 from the Iowa Farm Bureau.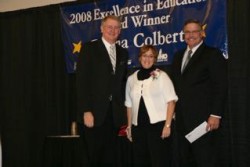 Deana Horras-Colbert receives the Excellence in Education Award from ISEA President Chris Bern and Iowa Farm Bureau President Craig Lange
"I'm so glad alternative education can be discussed as a
part of my award," said Horras-Colbert, one of nearly 100 nominees for
the award. "So often, alternative students and programs are
misunderstood or portrayed in a negative light. These students work
hard and are finally receiving much-deserved positive attention."
English Valleys School District is located in
southeastern Iowa and serves the communities of North English, South
English, Kinross and Webster. Horras-Colbert teaches high school
special education, is an instructor in the alternative program and
coaches middle school volleyball and high school track in the school
district.
In addition to teaching, Horras-Colbert is working
toward her master's degree in counseling through the Drake School of
Education's cohort program in Cedar Rapids, Iowa. She and 25 other
students began taking classes in the spring of 2007 and will graduate
in May of 2010.
Drake has offered similar programs in rehabilitation
around the country since 1976, and counseling cohorts began in 1985.
Students are enrolled in two classes per semester — fall, spring and
summer — and complete the program with a two-semester internship and
practicum placement.
"The program has been very successful over the years,"
said Robert Stensrud, professor of education and cohort program
coordinator. "There have been hundreds of graduates."
By meeting once or twice a month and using Internet
resources, the program enables many nontraditional students to complete
a master's degree easier.
"Our cohort design makes this valuable education
accessible to people who work and have families," said Horras-Colbert.
"For many of us, it just wouldn't be possible to travel throughout the
week to attend class."