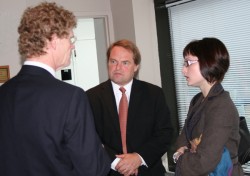 Cary Fowler (left) talks with Professor Neil Hamilton and USDA economist Rachel Dettmann, a prospective Drake Law School student.
Crop diversity expert brings genetic conservation message to Drake law students
Cary Fowler, executive director of Global Crop Diversity Trust, planted a seed about the importance of preserving the world's crops with nearly 30 Drake law students during his recent Drake visit.
"Mr. Fowler made clear the need for crop diversity and the importance of recognizing this need and supporting efforts to maintain crop diversity sooner rather than later," said President of the Drake Agricultural Law Association Ed Cox.
In his presentation to Neil Hamilton's Food and the Law class, Fowler said the trust is striving to protect millions of crops from natural and manmade disasters worldwide.
"When I look at the problems that humans face — climate change, population growth, energy, water and poverty — I can't think of a realistic sustainable solution without crop diversity," said Fowler, who has spent nearly 30 years working with conservation and crop diversity. "We can't solve any of these without crop diversity."
The trust has conserved more than 100 billion seeds and 100,000 distinct crop varieties from countries such as Canada and Ethiopia and organizations, including Iowa's Seed Saver's Exchange.
"We are very excited about the partnership that will allow Seed Saver's Exchange to deposit thousands of varieties of heirloom vegetables for permanent protection," said Professor Hamilton, who serves with Fowler on the SSE Board of Directors.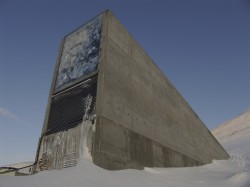 The entrance to the "doomsday vault." Photo by Mari Tefre of Global Crop Diversity Trust.
Seeds
are stored in gene banks and vaults, including the Svalbard
International Seed Vault — also know as the "doomsday vault" — on the
Norwegian island Spitsbergen. The vault, which was built 364 feet
inside a mountain, is kept at temperatures between -10 to -20 degrees
Celsius.
When it comes to storing seeds from all over the world,
having many varieties is important, Fowler said. He showed students a
photo of a seed storage bank in the Philippines that was destroyed by a
typhoon and explained that those varieties may no longer exist.
"Diversity that United States agriculture needs one day
could be what they have in the Philippines," he said. "We are all in
the same boat and we all might need diversity from gene banks around
the world."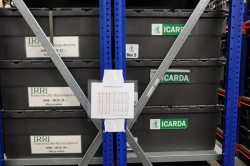 Seed storage in the vault. Photo by Mari Tefre, Global Crop Diversity Trust.
Fowler
told students that the trust has made progress by conserving what it
has, but countries need to save more. He said millions of people can
depend on a certain crop and the more varieties of the crop, the better
chance they have to create a plant that can survive and adapt to
challenges in the future, such as changing climate.
"People and plants have co-evolved, but plants' future
depends on us," Fowler said. "It isn't natural selection. Natural
selection is truly in our hands."
When Drake students asked him how they can help, he
said, "we need good lawyers." Fowler explained how important is it for
students to learn about the topics their clients are dealing with, be
good problem solvers and know that "victories are not the same things
as solutions."
"I appreciated Mr. Fowler's advice on what makes a good
attorney," said Cox, a third-year law student from Rogersville, Mo.
"This is valuable advice and it was good to hear about the
characteristics that someone in Mr. Fowler's position appreciates in
the attorneys that he works with."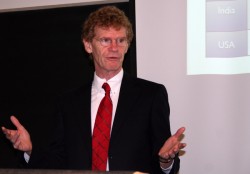 Cary Fowler
Fowler — A renowned crop diversity expert and author

Hamilton,
who has known Fowler for 15 years, invited him to speak to Drake
students. Drake Law School is the first law school in the nation to
host Fowler.
Prior to joining the trust, he was program director for
the National Sharecroppers Fund/Rural Advancement Fund, a U.S.-based
organization engaged in plant genetic resources education and advocacy.
He also headed the International Conference and Programme on Plant
Genetic Resources at the Food and Agriculture Organization of the
United Nations (FAO), which produced the U.N.'s first ever global
assessment of the state of the world's plant genetic resources.
Fowler co-authored the book "Shattering: Food, Politics
and Loss of Genetic Diversity," and has written more than 75 articles
on plant resources in agriculture, law and development journals.