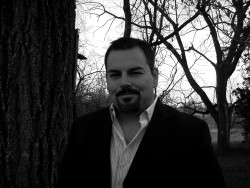 Edward Corpus
CONTACT: Tory Olson, 515-271-1834, tory.olson@drake.edu
Lecturer in Music and Teaching Artist Edward Corpus, bass, will give his first faculty recital at Drake at 8 p.m. Friday, Nov. 14, on the Jordan Stage in Sheslow Auditorium in Old Main, 2507 University Ave. The concert is free and open to the public.
The performance will feature a wide array of works by composers, including Verdi, Moore, Ibert, Porter and Bowles.
Corpus has won the Metropolitan Opera National Council District Audition, as well as winning the National Association of Teachers of Singing vocal competition three consecutive times.
In his most recent operatic performances, Corpus has played Sparafucile in Rigoletto, Zuniga in Carmen and Colline in La Bohème with Opera Quad Cities and the Modern Major-General in Pirates of Penzance with Cedar Rapids Opera.
In addition to his operatic performances, Corpus is a songwriter and member of Broadcast Music International, as well as a radio personality and voice-over artist for Thunder Country, a program of KIIC-FM in Albia, IA.
Corpus will perform on campus again Wednesday, Dec. 10. The concert, entitled Urban Cowboy, will feature music he has written, from adult contemporary, R&B and soul music to his original brand of country-soul.
Corpus came to Drake's music department in 2007. He earned a Bachelor of Music at Illinois State University and a Master of Music at the University of Nevada – Las Vegas. He is in the Musical Arts doctoral degree program at the University of Iowa.