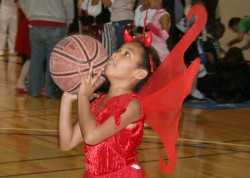 MEDIA CONTACT: Tory Olson, 515-271-1834,
tory.olson@drake.edu
Nearly 300 children ages 3-12 dressed in their best Halloween costumes for the 15th annual Drake University Community Halloween Hoops Shoot Out on Wednesday, Oct. 29.
The event featured basketball contests from Free Throws to Lay Ups and Over the Backboard Shot. Kids also participated in face painting, bobbing for apples and striking piñatas. Pizza, soda pop and candy were provided as well.
"We are happy to offer a safe environment for kids — the most special part about this event," said co-host and Drake basketball legend Dolph Pulliam. "Parents don't have worry about their children. They can sit in the Bell Center and just watch them run rampant!"
Each year Pulliam and Drake law professor Russ Lovell organize and host the event. Co-sponsors include the Drake Law School Student Bar Association and the Des Moines branch of the NAACP.