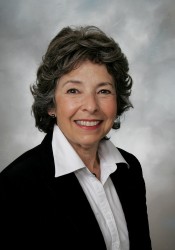 Madeleine Maxwell
MEDIA CONTACT: Lisa Lacher, 515-271-3119, lisa.lacher@drake.edu
Artists who have created specially designed and decorated bras for this year's "Bras for the Cause," which raises money for early detection of breast and cervical cancer, have selected Drake First Lady Madeleine Maxwell's "CandelaBRA" as the winner of the Artist Choice award.
Maxwell's "CandelaBRA" is featured in a story in today's Des Moines Register and a photo of the bra will be published in a "Bras for the Cause" calendar.
"I wanted to do something over the top, and the idea for a 'CandelaBRA' just popped into my head," Maxwell said.
She used a silver and black spindle from the base of a lamp, then bent serving utensils to support the bra. She sculpted over the bra with a special resin, denting and painting it to match the base. Finally, she decorated the bra with strands of beads and pendant crystals. To finish, she added lily-shaped candleholders and pink tapers.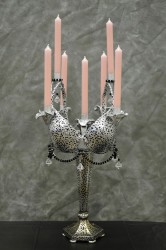 The "CandelaBRA"
The "CandelaBRA" and three other one-of-a-kind Drake bras were on display during a public viewing of all 142 bras on Nov. 1- 2 at Governor Square in West Des Moines.
Drake University was well-represented in the display as two Drake staff members and a Drake graduate joined the University's first lady in creating designer bras:

Athletic Director Sandy Hatfield Clubb developed the "Double D Sports Bra," which features a Drake-embroidered sports bra draped over the backboard of a child-size basketball hoop. The bra also sports a football, soccer ball and volleyball.
Cancer survivor Nancy Strutzenberg, development events coordinator at Drake, crafted a bra titled "I Had a Mastectomy. . . Sew What?" The bra reflects her love of sewing through decorative touches such as buttons, pins and yellow measuring tape.
Drake graduate Mary Kay Smith, wife of Drake Vice President for Alumni and Development John P. Smith, designed a bra that demonstrates her family's devotion to the Chicago Cubs. "The Cub Supporter" bra hangs on a small wooden bat and features the Cubs logo and green ivy reminiscent of Wrigley Field.
"Bras for the Cause" also plans a public gala and bra auction on Nov. 15 at Prairie Meadows Racetrack and Casino in Altoona. More information is available online.
"Last year's event raised $265,000 for cancer screenings and I hope this year's event will bring in even more," Maxwell said. She noted that every $100 generated by the project provides a free mammogram and cervical cancer screening for an Iowa woman who would not otherwise be able to afford the tests."



"This is a wonderful project because it's fun and it helps so many women who otherwise would not have access to vital cancer screening," Maxwell said.
In addition to participating in the creation of "Bras for the Cause," Maxwell recently joined the organization's board of directors.