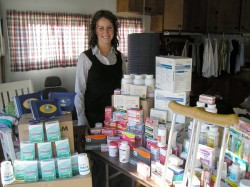 Erin Frazee stands with some of the items she's collected for a Belize clinic.
Pharmacy student heading for Belize takes packing to a new level
Erin Frazee won't be traveling lightly when she journeys to Belize in January as one of Drake's first pharmacy students to do a clinical rotation at the Hillside Health Care International Clinic.
Frazee, a fourth-year pharmacy student from Moorhead, Minn., launched the "Fill the Suitcase for Hillside!" program to collect medications and medical supplies for the clinic.
"I jumped at the opportunity to participate in the Belize rotation because I wanted an international experience that focuses more on the basics of primary care and less on expensive procedures and fancy medicines," Frazee said.
"I also wanted the opportunity to engage in a global missions-like project," she added. "This is a wonderful opportunity to not only learn about pharmacology, but also about humanity. I look forward to growing both as a professional and a global citizen."
Frazee, a member of Trinity Lutheran Church in Moorhead, Minn., presented a formal grant proposal for the "Fill the Suitcase" program to her church's charitable foundation.
In return, she received a $4,500 grant for prescription medications on the clinic's wish list. Members of the congregation also made individual contributions ranging from aspirin to multivitamins.
She also sought support from the Hy-Vee Pharmacy on Martin Luther King Parkway in Des Moines, where she had completed a clinical rotation.
Pharmacy Manager Dave Hester arranged for the store to donate myriad supplies, including iron and folic acid tablets, Tylenol infant drops, medication vials and dosing syringes.
"I wanted to do whatever I could to help out," Hester said. "Erin is an excellent student — she's really personable and gets along well with people."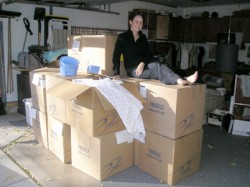 Erin Frazee sits on top of boxes of medical equipment donated by Project HERO.
Frazee also arranged for Scheels All Sports to donate two bicycles to
the clinic. Plus, she obtained a generous donation from Project HERO of
1,000 pounds of medical equipment such as walkers, canes, bandages,
hospital gowns, slings and splints. Project HERO serves as a clearinghouse that provides unused health-care supplies and durable medical equipment to those in need.
Frazee proved so successful in garnering donations that she was
soon faced with another challenge — finding the resources to ship all
the supplies and equipment more than 2,000 miles to the clinic in the
Toledo District of Belize.
She went back to the Trinity Lutheran Church Foundation and applied
for additional funding, receiving a $2,000 grant that will cover
shipping costs.
"I have been extremely impressed by Erin's initiative with this
project," said Denise Soltis, director of Drake's pharmacy experiential
programs. "She took it upon herself to see what else she could do for
this clinic. What wonderful results from her efforts! I think Erin will
be able to accomplish really anything she sets her mind to in the
future."
In addition to the support she has received from numerous
organizations, Frazee credits her parents — Willis and Patricia Frazee
— for a good deal of the success of the "Fill the Suitcase" project.
"My parents have been hugely helpful in making this whole thing
happen," she said. "It is a bit challenging being on rotations and
trying to handle so many parts of the project."