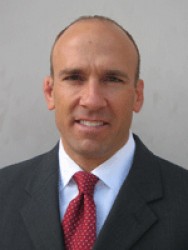 Dennis Francois
NATIVE IOWAN NAMED DRAKE ASSOCIATE ATHLETIC DIRECTOR
Drake University Athletic Director Sandy Hatfield Clubb recently announced the appointment of Dennis Francois as associate athletic director for external affairs at Drake University. Francois has served as director of athletics at Southern Oregon University since June 1, 2005.
"Dennis will be a tremendous asset to the senior leadership team of the Drake Athletics Department," said Clubb. "He has done outstanding work in external operations, significantly overachieving his resources, and he has proven his management and leadership expertise. I am thrilled that he has joined the Bulldog family."
The move will mark a homecoming of sorts for Francois, who is 1985 graduate of Belle Plaine High School. He earned a master's degree at Loras College, where he served as an assistant wrestling coach.
"I am extremely excited to join the Drake Athletic family and work with Athletic Director Sandy Hatfield Clubb," said Francois, who also lived in Denison, Iowa. "Sandy has incredible passion and I am dedicated to fulfilling her vision of developing world class leaders through sport."
Under Francois' direction, the Southern Oregon athletic department realized numerous positive changes in internal and external operations. Scholarship support increased by 80 percent since 2004 with a 200 percent increase in institutional scholarship support. The department also realized a 20-fold increase in external revenue due to the development and facilitation of an extensive marketing and promotions plan.
Francois came to Southern Oregon from New Mexico Highlands University where he served as interim director of athletics from March of 2002 through the 2002-03 academic year and assistant professor of sport administration.
Francois' coaching experiences include assistant wrestling coach at Loras College in Dubuque, Iowa, and at Colorado Northwestern Community College. Francois was a professor in higher education for eight years, including stints in West Virginia, Iowa, Idaho and New Mexico.
He earned his doctoral degree in sport administration from the University of New Mexico, a master's in administration of athletics from Loras College and his bachelor's in communications management from Missouri State, where he competed in wrestling for the NCAA Division I Bears.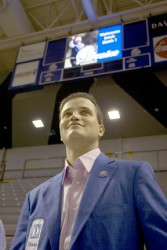 Zach Johnson
DRAKE ALUMNUS ZACH JOHNSON ENJOYS VICTORY AT GOLF TOURNAMENTS IN TEXAS, NEVADA
This
month Zach Johnson, BN'98, recently took his fourth career victory at
the Texas Open and then tied for 10th place in the Justin Timberlake
Shriners Hospitals for Children Open in Las Vegas.
After a weekend of stellar play, Johnson reunited with
former Drake golf coach Ken Schall at a promotional appearance at the
PGA McGladrey Team Championship in Pinehurst, N.C.
Johnson told the Des Moines Register he had always
dreamed of playing in the PGA Tour when Schall, former PGA Tour player,
was his coach.
Since that dream in 1998, Johnson is ranked 35th in the
overall world golf rankings and grabbed top spots in the PGA Tour for
the last five years.
Read more in the Des Moines Register's "Iowan found
groove in Texas, Nevada" story online.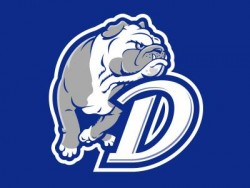 DRAKE MEN'S AND WOMEN'S BASKETBALL TEAMS KICK OFF SEASON WITH VICTORIES
The Drake men's and women's basketball teams started the season strong by winning their exhibition games last Saturday (Nov. 1) at the Drake Knapp Center.
The men's team beat Truman State, 77-61, and the women's team won 67-62 against Quincy. Read more about the men's and women's games online.
Before hosting their first regular season home games, both teams will play exhibition games next week at Drake Knapp Center.
The men, who were picked to finish fourth in the Missouri Valley Conference's preseason poll, will face Arkansas Tech at 2:05 p.m. Nov. 9 before playing Butler at home on Nov. 15.
The women, who were tabbed to finish third in the MVC's annual poll, will play Minnesota-Duluth at 7:05 p.m. Nov. 6 and will face Texas State on Nov. 14.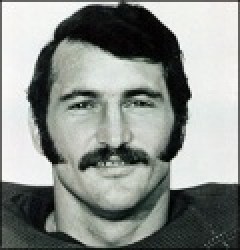 Karl Kassulke
Drake loses two Centennial Football Team members to heart attacks
Karl Kassulke, LA'63, and Floyd Miller, ED'51, two members of Drake's Centennial Football Team, died recently of heart attacks.
Kassulke, 67, of Egan, Minn., died on Oct. 27. He was drafted by the Detroit Lions after graduating from Drake and then went on to play for the Minnesota Vikings for 10 years until a motorcycle accident paralyzed him, ending his football career.
Known as one of the hardest-hitting defensive backs, Kassulke played in the 1970 Super Bowl of Kansas City and was named to the Pro Bowl the following season. Read more about Kassulke online.
The family requests that memorials be directed to Wings Outreach, a Christian ministry to the disabled that Kassulke loved and worked with for many years. Checks may be sent to Wings Outreach, P.O. Box 49983, Blaine, MN 55449.
Miller, 80, of Urbandale, Iowa, died on Oct. 31. He had received the Double D Award from Drake in 2003 and served as a Drake Relays official for 50 years.
After graduating from Drake, Miller went on to serve in the U.S. Navy and had a long career in the cement industry. He worked at Penn-Dixie for 27 years, where he was a general sales manager for three years, and Dundee-Holnam Cement, where he was marketing manager for 10 years.
The family requests memorials to be directed to The American Heart Association, the Alzheimer's Research Foundation, Drake University Quarterback Club or the Adair County Youth Sports Complex.