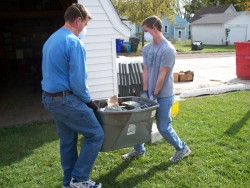 Tom Primmer and Quint Hall carry a heavy tub sloshing with floodwater and damaged books as part of the salvage effort.
Three students from St. Catherine of Siena Catholic Student Center at Drake University devoted their recent fall break to helping with flood-recovery efforts at the Mother Mosque of America in Cedar Rapids, Iowa.
Tom Primmer, director of campus ministry at St. Catherine of Siena, joined the students in working Oct. 18-20 at the mosque, which dates back to the 1920s and is the oldest mosque in America.
Primmer and the students painted, installed insulation and sorted through dozens of plastic tubs containing waterlogged books and historic records that were damaged during the summer floods. Many of these materials had been in the basement of the mosque when the flooding occurred. Almost everything in the basement — where floodwaters rose to within six inches of the first floor — was a total loss with the exception of a photograph of the founders of the mosque.
The Drake students — Nate Altman, Quint Hall and Shifikovie "Kovie" Biakolo — said they found their alternative fall break to be a rewarding and enlightening experience.
"I live six hours away and knew I wouldn't make it home for two days of fall break," said Hall, a first-year international business major from Salina, Kan. "I didn't want to sit around an empty campus, so this seemed like a good opportunity to join a small group of people helping other people. I think we all gained a much better understanding of Islamic teaching and theology."
Biakolo, a sophomore originally from Ughelli, Nigeria, described the project as a fruitful interfaith exchange. "It was a way to show people that we are interested in the welfare of all peoples as a Christian church and group," she said.
Also," she added, "during the school year, it is easy to get wrapped up in yourself and your problems. Doing something for someone else is the best way to keep things in perspective."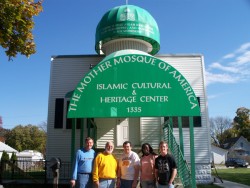 Tom Primmer, building manager Albert Ossi, Nate Altman, Shifikovie "Kovie" Biakolo and Quint Hall take time out for a photo.
"This was an excellent opportunity for us to learn about another
religious tradition while bringing the Christian faith tradition to
life in real and tangible ways," said Primmer of St. Catherine's of
Siena Catholic Student Center.
The students' efforts received media coverage in The Cedar Rapids
Gazette in an article headlined "Notre Dame, Drake students travel to
help flood clean-up."
To thank the Drake students for their help, the Islamic Center of
Cedar Rapids provided a potluck dinner for the group featuring
authentic Middle Eastern food. Members of the Mother Mosque community
expressed their appreciation by serving a potluck lunch to the group.
"This was a great opportunity to see faith in action," said Imam
Taha Tawil of Mother Mosque. "I want to thank Drake University students
for taking their time to help us recover from the floods, knowing that
the Mother Mosque is an important piece of American history."