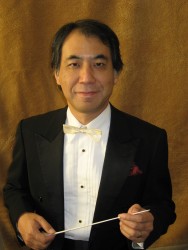 Akira Mori
CONTACT: Lisa Lacher, 515-271-3119, lisa.lacher@drake.edu
Akira Mori, the new director of the Drake University Symphony Orchestra, will conduct his debut concert on Saturday, Nov. 1. The concert, which is free and open to the public, will start at 8 p.m. on the Jordan Stage in Sheslow Auditorium in Old Main, 2507 University Ave.
The program will feature Tchaikovsky's Romeo and Juliet Fantasy Overture and Beethoven's Symphony No. 7. Both of these works are part of major repertoire of medium-sized orchestras.
"I wanted to highlight the students with two major orchestral works at this first concert," Mori said. "I believe the level of difficulty of these pieces is suitable for the students' abilities and will prove challenging for them."
A native of Japan, Mori succeeds John Canarina, who directed the Drake Symphony for 35 years before retiring last spring as director of orchestral studies.
Mori's previous conducting engagements include the Tokyo Symphony, Tokyo Chamber Orchestra and the Minnesota Orchestra. He has professionally conducted in countries such as Japan, the United States, Russia, Ukraine, Moldova and Argentina. He plans to return to Romania to conduct in 2009.
Mori has won the Hideo Saito Award from Tokyo International Music Competition Conducting Contest and the Best Concerto Accompanying Award from Dinu Niculescu International Competition in Romania.
He is equally active in the teaching field and has been a professor and conductor in music schools at Indiana University, the University of Minnesota, Louisiana State University and Tokyo College of Music, among others.
Mori received his bachelor's degree in flute performance from the New England Conservatory and his master's degree in orchestral conducting from Indiana University.
He also has participated in music festivals in Vienna, Aspen, Tanglewood and others. His recordings can be heard on Japan Victor.