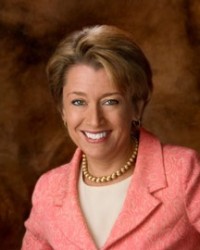 Lori Wallach
MEDIA CONTACT: Lisa Lacher, 515-271-3119, lisa.lacher@drake.edu
World trade expert Lori Wallach will present "Alternatives to Economic Globalization" on Wednesday, Oct. 22, as a part of Drake University's "United States and the World" lecture series.
The lecture, which is free and open to the public, will begin at 7 p.m. at Sheslow Auditorium in Old Main, 2507 University Ave.
Wallach founded the Public Citizen's Global Trade Watch division in 1995 and serves as its director. Global Trade Watch is a leader in the global citizen movement for fair trade and investment policy. She has played an important role in fostering the growing debate about implications of different models of globalization on jobs, livelihoods and wages; the environment; public health and safety; equality and social justice and democratically accountable governance.
A Harvard-trained lawyer, Wallach has promoted the public interest regarding globalization and international commercial agreements in many forums, including Congress and foreign parliaments, the courts, government agencies and the news media. She has been described as "Ralph Nader with a sense of humor" in a Wall Street Journal profile and as "the Trade Debate's Guerrilla Warrior" in the National Journal. She has served as a trade commentator on CNN, ABC, CNBC, C-SPAN, and regularly appears on programs such as "All Things Considered" and "The NewsHour with Jim Lehrer."
The "United States and the World" lecture series is sponsored by Drake's Center for Global Citizenship.
For more information about the event, call 515-271-2117. The schedule for the rest of the series is available online.