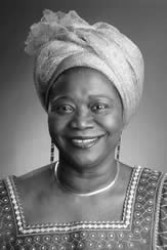 Florence Chenoweth
MEDIA CONTACT: Lisa Lacher, 515-271-3119, lisa.lacher@drake.edu
Longtime agricultural expert Florence Chenoweth will present a lecture on food as a human right on Thursday, Oct. 16, as part of Drake University's fall lecture series, "United States and the World."
The event, which is presented in cooperation with the World Food Prize Institute, is free and open to the public. The lecture, "Food as a Human Right — A Huge but Achievable Challenge," will begin at 12:30 p.m. in Bulldog Theater in Olmsted Center, 2875 University Ave.
For more than 20 years, Chenoweth has collaborated with political organizations in the agricultural field at the local, state and international level.
She served as the United Nations Food and Agriculture (FAO) representative to the United Nations and executive director of the FAO Liaison office in New York until September 2007.
She currently is teaching at the University of Wisconsin.
The "United States and the World" lecture series is sponsored by Drake's Center for Global Citizenship in cooperation with the National Security Network.
For more information about the event, call 515-271-2117.



The schedule for the rest of the series is available online.