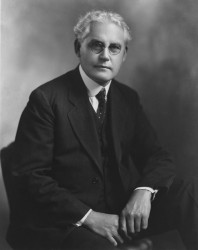 Drake President Daniel Morehouse discovered the comet that bears his name in 1908.
MEDIA CONTACT: Tory Olson, 515-271-1834, tory.olson@drake.edu
Charles Nelson, associate professor of physics and astronomy at Drake University, will present "Daniel Morehouse and the Comet's Tale" at 7 p.m. Thursday, Oct. 23, in the Cowles Library Reading Room, 2725 University Ave.
Morehouse, a renowned astronomer and Drake president from 1922-1941, discovered a comet that bears his name in 1908.
The lecture is free, but reservations are required by Friday, Oct. 17. To RSVP, call 515-271-3994 or e-mail susan.breakenridge@drake.edu. A reception will follow the lecture.
Nelson will discuss Morehouse's investigations of comets as well as discoveries that have been made by astronomers since then. He also will talk about studies with modern telescopes and satellite reconnaissance missions that have played a role in comet discoveries.
The Live! at Cowles Library event is being held in conjunction with the Morehouse Comet Exhibit, which features the history of astronomy at Drake, including the discovery of the Morehouse Comet. The exhibit will be open through December in the James Collier Heritage Room of the library.
Due to construction on Drake's campus, visitors will need to enter campus from University Avenue and follow the north/south sidewalk in front of Cowles Library that goes around the library on the east side of the building (toward Cole Hall). That walkway joins the sidewalk on the north side of the building (close to Carnegie Hall), where visitors will turn left, or go west, to the library's entrance.