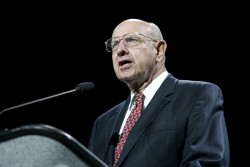 Thomas R. Pickering gives the 22nd Bucksbaum Lecture at Drake.
Former U.S. Ambassador Thomas R. Pickering, who also served as undersecretary of state for political affairs, called for a renewed emphasis on diplomacy when he presented the Martin Bucksbaum Distinguished Lecture at Drake on Sunday, Oct. 5.
Pickering's lecture was titled "America's Role in the World: Foreign Policy Choices for the Next President."
The lecture will be broadcast statewide at 7 p.m. Thursday, Oct. 16, on IPTV's digital channel as part of its Intelligent Talk Television series.
Before outlining the major challenges facing the next president, Pickering addressed the importance of diplomacy.
"Diplomacy, in my view, will certainly come back into its own as it has not been recently a major tool in our efforts to deal with everything from conflicts to settlements of major disputes and questions," he said.
"Similarly," he added, "those of us who are diplomats know and understand that American diplomacy has benefited enormously over the years from the fact that we have had an absolutely first-class military establishment. . . . The important role for military is to be able to be there to support diplomacy. We should look to use of the military as the last resort and diplomacy as the front line of our major efforts to deal with the numerous problems that are out there before us."
Pickering also noted that "operating alone and sending messages to foreign countries about how we expect them to behave is not now and probably never was a very persuasive activity."
Instead, he said, "We need to think about operating in a broad multilateral context with friends and allies. Leadership through partnership is an approach that is very typical of traditional diplomacy and one that I believe we are certainly well within reach of recovering. These approaches are simple and straightforward, but I think they need to be kept in mind in the years ahead as we consider how we should conduct ourselves."
Pickering went on to list numerous foreign policy issues that will confront the next president when he takes office in January:

Management of the international economic system, including finance, investment and international trade
Public health, food and water supplies, immigration, narcotics and crime, especially in underdeveloped and developing countries
Energy, climate change and the environment
Disarmament and arms control and the potential threat that terrorists will obtain and use weapons of mass destruction
Continuing tensions and instability in the Middle East (including Afghanistan and Pakistan) and the ongoing dispute between Israel and the Palestinians
Countries that will become rivals or partners of the United States over the next 10 years — China, Russia, India, the European Union, Japan and Brazil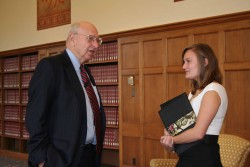 Sarah Power chats with Thomas Pickering following an informal question-and-answer session.
In addition to giving the Bucksbaum lecture, Pickering also met informally for a question-and-answer session Monday morning with students, faculty and staff.
Topics covered in that session included career prospects for students interested in joining the foreign service, the strained relations between Russia and Georgia, and how much the United States should get involved in Africa, especially the genocide taking place in Darfur.
Pickering was well-received by students attending the lecture and informal talk.
"This man is a legend," said Sara Power, a sophomore from Maple Grove, Minn., who is majoring in international relations, magazine journalism and politics. "Having the opportunity to interact with him in a small group was just amazing."
Mitch Garrett, a first-year international business major from Phoenix, agreed. "That was fantastic," he said after the informal session. "It was exciting to talk with someone with so much wisdom and experience."
Pickering has enjoyed a long and distinguished career
In a diplomatic career spanning five decades, Pickering has served on each of the major continents and reached the rank of career ambassador, the highest in the U.S. Foreign Service. He acted as U.S. ambassador to Russia, India, Israel, El Salvador, Nigeria and the Hashemite Kingdom of Jordan.
From 1989 to 1992, Pickering was the U.S. ambassador and representative to the United Nations in New York, where he led the U.S. effort to build a coalition in the U.N. Security Council during and after the first Gulf War.
Pickering served as executive secretary of the department and special assistant to Secretaries of State William P. Rogers and Henry A. Kissinger in the 70's and as undersecretary of state for political affairs from 1997-2000.
After retiring from the State Department, Pickering joined The Boeing Company as senior vice president of international relations and member of the Executive Council. He was responsible for the company's relations with foreign governments and the globalization of Boeing.
He now serves as vice chairman of Hills & Company, International Consultants.