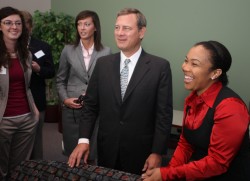 Drake law students share a laugh with Chief Justice Roberts during a breakfast with student leaders.
Drake University law students enjoyed the opportunity to interact with and question Chief Justice of the United States John G. Roberts Jr. during his day-long campus visit on Thursday, Oct. 2. View a photo gallery of his visit online.
At a breakfast with approximately 70 student leaders at Drake Law School, Roberts answered questions on topics ranging from the best way to prepare for an appellate argument to what he looks for in a resume from a prospective law clerk.
Roberts advised students interested in appellate practice to hone their research and presentation skills by participating in moot court competitions.
When it comes to evaluating resumes, he said, "I am impressed with someone who was a waitress or cab driver and has experience in the real world. . . . You have your whole life ahead of you to work in the law."
Roberts told the students that he paid for his schooling by working summers at a steel mill near Gary, Ind., following in the footsteps of his father and grandfather. He was a class six electrician job helper and a member of the United Steel Workers of the America.
He described getting shocked when asked to tighten bolts because he didn't know what wires were live. "Working in a steel mill inspires you to work hard in law school," he added.
"This is really an amazing opportunity for students," said Amos Hill, president of Drake's Student Bar Association. "It is great to be able to hear some of his personal stories and how he can relate to what we are going through."
Following the breakfast meeting, Roberts engaged in an off-the-record question-and-answer session with law students and faculty that lasted nearly an hour. He then toured the Law School and had lunch with the entire Law School faculty.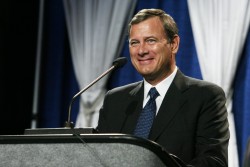 Chief Justice Roberts punctuated his lecture with humorous anecdotes.
Next came the main event of the day — the 11th annual Dwight D. Opperman Lecture in Constitutional Law.
A crowd of approximately 2,500 gathered at the Drake Knapp Center
to hear Roberts deliver the lecture as part of the ongoing lecture
series endowed by Drake alumnus Dwight D. Opperman. He established the
series in 1988 to recognize the importance of constitutional law to the
nation and enhance its emphasis at Drake Law School.
Thursday's event began with Drake President David Maxwell thanking
Opperman for his remarkably generous support of Drake and for his
vision in establishing the series that has brought 10 Supreme Court
justices to the Drake campus.
"Dwight, on behalf of all of us who are enriched by your ideas and
by your actions, we thank you," President Maxwell said. Opperman smiled
and waved as the crowd gave him a standing ovation.
Drake Law School Dean Benjamin B. Ullem then introduced Roberts,
adding that "He has been engaging and a delight to have on our campus."
Roberts expressed his thanks for the "generous introduction," then
said, "I wish my parents had been here to hear it. My father would have
loved it and my mother would have believed it."
The chief justice went on to describe how the Supreme Court is
"gearing up" for the opening of the fall term on Monday, Oct. 6, in the
midst of a comprehensive renovation of the Supreme Court Building —
the first since it opened in 1935.
"Now, there were a lot of reasons that we had to renovate the
building, including the fact that we were literally losing our
marbles," he said. "The occasional chunk of marble would dislodge and
fall from above, threatening to shorten life tenure."
"Another reason," he added, "is that we had to keep up with changes
in technology, not just the heating and cooling system, but
technological changes in the areas of legal research and analysis. .
.We need a great deal more wiring behind our marble walls than we did
in 1935. We're also installing wireless technology throughout the
building."


Advances in technology bring advantages, pitfalls
Roberts traced the history of technology's role in the law from the
time of the ancient Greeks and Romans to the present. He noted that
today's powerful computer-based legal research tools have made it much
easier for lawyers to find the information they need.
He also cautioned that the tools can be misused and that they can't
take the place of critical thinking. "There is, I believe, a lot of
value in thinking outside the box, but the key word is thinking,"
Roberts said. ". . . You cannot think effectively outside the box if
you don't know where the box is."
At the conclusion of the lecture, Dean Ullem presented Roberts with a pair of engraved bookends commemorating his Drake visit.
"I will value and keep them in my chambers," Roberts said as he
accepted the gift. "Thank you for the warm welcome and reception I
received here today."
Roberts' lecture will be shown statewide on "The Intelligent Talk"
series on Iowa Public Television's digital channel at 7 p.m. Thursday,
Oct. 9. The lecture also can be heard by clicking on the audio link on the Radio Iowa Web site.