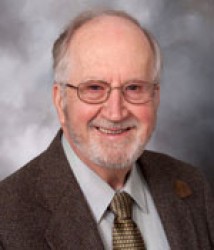 Duane Rumbaugh
MEDIA CONTACT: Tory Olson, 515-271-1834, tory.olson@drake.edu
Duane Rumbaugh, Great Ape Trust scientist emeritus, will present "Emergents and a New Behaviorism: from Instincts and Conditioning to Creativity and Intelligent Behavior in the Animal Kingdom" as part of Drake's Science Colloquium Series on Friday, Oct. 10.
The lecture, which is free and open to the public, will start at noon in Bulldog Theater of Olmsted Center, 2875 University Ave.
Rumbaugh, a pioneer in comparative psychology and the study of primate learning, intelligence and language, is acknowledged as one of the most important 20th century contributors in the field of comparative psychology. He will lecture on his salience theory, a new perspective of how learning takes place across species and generates new behaviors called "emergents."
"Emergents are the appearance of creative and innovative behaviors and even new capacities in the subjects we study, be they human or other," Rumbaugh says. "We will explore the provisional answers to questions that accompany emergents with emphasis on brain complexity and early rearing and much more."
Prior to joining Great Ape Trust of Iowa in spring of 2005, Rumbaugh taught at San Diego State College and researched at Yerkes National Primate Research Center of Emory University. He also taught and researched at Georgia State University where he co-founded its Language Research Center.
Rumbaugh has written and edited several books and has published more than 200 papers.
A native of Maynard, Iowa, Rumbaugh received a Bachelor of Arts from the University of Dubuque, a Master of Arts from Kent State and a Doctorate in General-Experimental Psychology from the University of Colorado.
For more information on the event, contact Maria Bohorquez, director of the Drake Undergraduate Science Collaboration Institute, at dusci@drake.edu or 515-271-2595.
The schedule for the rest of the series is listed below:
Nov. 12 — Life After Drake Series by Paul Bush, Iowa Division of Criminal Investigation, Ankeny, Iowa. The event will begin at 7 p.m. in Sheslow Auditorium, Old Main, 2507 University Ave.
Nov. 21 — "One Person – One Vote: Two Mathematical Interpretations" by Alexander Kleiner, Drake professor of mathematics and computer science. The lecture will start at noon in room 101 of Meredith Hall, 2805 University Ave.
Dec. 5 — "Chemistry at Low Pressures – Formation of Organic Monolayers" by Mike Greenlief, University of Missouri. The lecture will start at 1 p.m. in room 101 of Meredith Hall, 2805 University Ave.