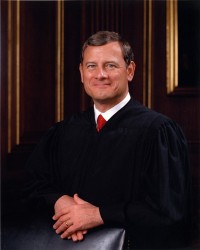 Chief Justice John G. Roberts Jr.
MEDIA CONTACT: Lisa Lacher, 515-271-3119, lisa.lacher@drake.edu
Chief Justice of the United States John G. Roberts Jr. will deliver the 11th Dwight D. Opperman Lecture in Constitutional Law at Drake University on Thursday, Oct. 2.
The lecture, which is free and open to the public, will start at 3 p.m. in the Drake Knapp Center, 2525 Forest Ave., Des Moines.
Dwight D. Opperman, a 1951 Drake Law School graduate, endowed the lecture series in 1988 to recognize the importance of constitutional law to the nation and enhance its emphasis at Drake Law School. Opperman, chairman of Key Investments, has been a major benefactor of Drake University and Drake Law School.
President George W. Bush appointed Roberts to the U.S. Court of Appeals for the District of Columbia Circuit in 2003. He was nominated as Chief Justice of the United States by President Bush two years later and, after being confirmed by the U.S. Senate, Roberts took his seat on the Supreme Court on Sept. 29, 2005.
Roberts holds a bachelor's degree from Harvard College and a law degree from Harvard Law School. He served as a law clerk for Judge Henry J. Friendly of the U.S. Court of Appeals for the Second Circuit from 1979-80 and as a law clerk for then-Associate Justice Rehnquist during the Court's 1980 term.
From 1981-82, Roberts was special assistant to the U.S. attorney general. He served as associate counsel to President Ronald Reagan from 1982-86. He was principal deputy solicitor general in the U.S. Department of Justice from 1989-93. He practiced law in Washington, D.C., from 1986-89 and 1993-2003.
The Opperman Lecture — always well attended by students, legal dignitaries, the university community and members of the public — presents opportunities for students to contemplate the Constitution with a member of the nation's highest tribunal. Justices interact directly with students by teaching a law class, engaging in off-the-record question-and-answer sessions, or meeting with small groups of student leaders.
Nine current or former Supreme Court justices have delivered Opperman Lectures. Justice Antonin Scalia is the only justice who has given two Opperman Lectures. The eight other lectures were presented by:

Justice Stephen Breyer
Justice Clarence Thomas
Chief Justice William H. Rehnquist
Justice Ruth Bader Ginsburg
Justice Sandra Day O'Connor
Justice Anthony M. Kennedy
Justice Lewis F. Powell
Justice Harry A. Blackmun