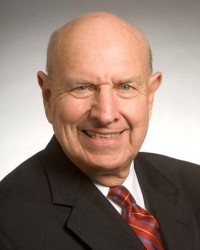 Thomas R. Pickering
Thomas R. Pickering, former ambassador and undersecretary of state for political affairs, will present "America's Role in the World: Foreign Policy Choices for the Next President," this fall's Martin Bucksbaum Distinguished Lecture at Drake University.
The free, public lecture on Sunday, Oct. 5, will begin at 7:30 p.m. in the Drake Knapp Center, 2525 Forest Ave.
In a diplomatic career spanning five decades, Pickering has served on each of the major continents and reached the rank of career ambassador, the highest in the U.S. Foreign Service. He acted as U.S. ambassador to Russia, India, Israel, El Salvador, Nigeria and the Hashemite Kingdom of Jordan.
From 1989 to 1992, Pickering was the U.S. ambassador and representative to the United Nations in New York, where he led the U.S. effort to build a coalition in the U.N. Security Council during and after the first Gulf War.
Pickering served as executive secretary of the department and special assistant to Secretaries of State William P. Rogers and Henry A. Kissinger in the 70's and as undersecretary of state for political affairs from 1997-2000.
After retiring from the State Department, Pickering joined The Boeing Company as senior vice president of international relations and member of the Executive Council. He was responsible for the company's relations with foreign governments and the globalization of Boeing.
Now, he serves as vice chairman of Hills & Company, International Consultants.
Pickering has held additional positions in Tanzania, Geneva and Washington. He speaks French, Spanish and Swahili fluently and also is proficient in Arabic, Hebrew and Russian.
A U.S. Navy veteran, he served on active duty from 1956 to 1959 and later served in the Naval Reserve to the grade of lieutenant commander.
Pickering holds several degrees:
•
Bachelor of Arts, cum laude, in history from Bowdoin College
•
Master of Arts in law and diplomacy from the Fletcher School of Law and Diplomacy at Tuffs University
•
Master of Arts from the University of Melbourne in Australia, where he studied under a Fulbright Scholarship
•
Honorary doctorate degree in law from Bowdoin College; he has received similar honors from 12 other universities
In 1983 and 1986, Pickering won the Distinguished Presidential Award and, in 1996, the Department of State's highest award, the Distinguished Service Award.
The Martin Bucksbaum Distinguished Lecture Series is made possible by a gift from Melva and the late Martin Bucksbaum, former chairman and president of General Growth Corp. and longtime member of Drake's governing board.