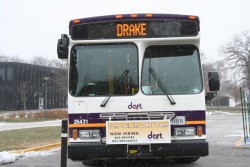 MEDIA CONTACT: Tory Olson, 515-271-1834,
tory.olson@drake.edu
To help cope with high gas prices, Drake is taking advantage of the new program that provides free rides on DART buses.
"Drake employees have shared with me how much they appreciate this benefit, particularly in light of the high gas prices we have experienced over the past year," said Venessa Macro, director of human resources.
The program, which gives all people with a Drake ID free rides on DART buses, has seen a major increase in ridership.
In December, 988 rides were given to Drake faculty, staff, students and retirees. That number grew to an all-time high of 3,952 rides in August, which showed a 300 percent increase from December. Approximately 25,100 rides have been given to Drake students, faculty and staff since the program began in December.
Waukee residents Karen Pomeroy, academic support specialist for the College of Business and Public Administration, and John Pomeroy, associate professor of theatre arts, started taking the bus in January to save money. Since then, they have discovered the program offers other benefits as well.
"It is easy to get on and off the bus, plus you get to know a lot of people who ride it everyday," said Karen Pomeroy, "It is a release of stress knowing you don't have to drive during rush hour."
Jayne Smith, director of sponsored programs, started taking the bus in June from Ankeny. She drives to the bus station, leaves her car and enjoys her coffee and a book on the ride to work. Smith said at first she was hesitant to transfer buses, but found the routine to be easy.
"I like not having to concentrate on driving," Smith said. "I encourage more people to take advantage of the great opportunity."
Macro said new faculty members are looking forward to using the free DART services and plan to use the bike rack system.
"During faculty orientation, several new faculty were excited to learn of the no-cost transportation benefit as they were planning to bike to work," Macro said. "Because of DART's bike rack system, they now had the option of biking to the bus route, placing their bike on the bus bike rack and riding the bus the remainder of the way to campus."