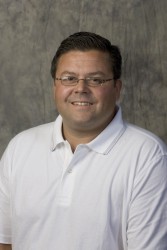 Fred Arroyo
Drake University Assistant Professor Fred Arroyo will present "Close as Pages in a Book: Reading, Writing and the Power of Linguistic Memories" on Friday, Oct. 3, as part of the Drake University Center for the Humanities Colloquium Series.
The presentation, which is free and open to the public, will start at 3:30 p.m. in the Honors Lounge of Medbury Hall, 2730 Forest Ave.
In his presentation, Arroyo will explore the importance of linguistic memories and the emphasis in which they are recalled. His novel, "The Region of Lost Names," is concerned with linguistic memories and helped inspire his talk.
Arroyo joined Drake in fall 2007 and is an assistant professor of English, teaching courses primarily on fiction writing.
He received his Ph.D. in English from the University of Wisconsin, a Master of Arts from Purdue University and a Master of Fine Arts from the Program for Writers at Warren Wilson College.
For more information, contact Joseph Schenider, director of the Drake Center for the Humanities, at 515-271-2158 or
joseph.schneider@drake.edu
.