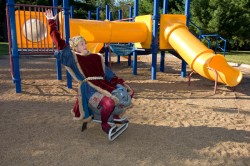 Luke Donia, a senior musical theatre major from St. Charles, Ill., plays King Berenger in Drake's production of "Exit the King."
MEDIA CONTACT: Tory Olson, 515-271-1834, tory.olson@drake.edu
Drake University Theatre 's production of Eugene Ionesco's absurdist play "Exit the King" continues today through Sunday.
The show chronicles the final hours in the life of King Berenger, a formerly prosperous ruler whose kingdom is now in shambles. Informed that he will die at the end of the play, the king rails against his demise.
He is comforted by his second wife, Marie, but scolded by his first wife, Marguerite, for never having considered his own mortality. Now that he wants more time to live, there is no more to be had.
Although Ionesco's work is set in a fictional medieval kingdom, Director Deena Conley, associate professor of theatre arts, has updated the production to a modern setting.
"Considering the contemporary milieu, I think it's a play that will resound with many people," Conley said. "To identify with a time and place akin to the one in 'Exit the King' is, I believe, unsettling."



There will be five performances Oct. 2-5 in Studio 55 of the Harmon Fine Arts Center, 25th Street and Carpenter Avenue. Show times are 8 p.m. Thursday through Saturday, with 2 p.m. matinees on Saturday and Sunday.
Admission is $5 for adults, $3 for students and senior citizens, or $1 with a Drake ID. Tickets are available at the Drake Fine Arts Center Box Office. Reservations may be made in person or by calling 515-271-3841. This play contains adult situations.